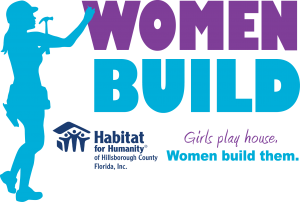 What is Women Build? 
Fourteen teams of ten individuals join together to:
Raise funds to build a Habitat home.
Physically construct the home.
Build awareness throughout the community about the importance of building strength, stability and self-reliance through shelter.
Bring new women and groups together to advocate for more decent, affordable homes for families in our community.
Earn one-of-a-kind incentives, like purple hard hats and blue hammers.
Have fun while making a difference!
How Does Women Build work?
14 teams of 10 individuals will raise enough money to fund a new home construction: $85,000.
Each team schedules one full day to work on the build site.
Individual fundraising requirement to build: $600
Team fundraising requirement to build: $6,000
Important Dates to Remember
Thursday, February 16th: Campaign kickoff and packet pick-up
Wednesday, April 12th: Fundraising Deadline
Thursday, April 20th: Women Build Empower Celebration
Saturday, April 22nd – Saturday, May 27th: Build
What's the Next Step?
Click here to register individually or as a team. If you have any questions, please contact Melissa Jay at 813-239-2242 ext. 109, or email her at mjay@habitathillsborough.org.