FULL-TIME RESTORE ASSOCIATE/DRIVER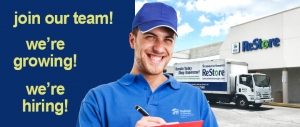 PLEASE NOTE!
OPEN INTERVIEWS for ReStore Associate/Drivers on MONDAY, OCT. 8, 9:30-11:30 AM at Silvermill ReStore (11236 W. Hillsborough Ave., Tampa) – Bring Resume!
Requirements:
Commitment to Habitat's mission.
Ability to relate to people with diverse backgrounds.
Effective written and oral communication skills.
Attention to detail.
Self-starter with ability to work both independently and with other staff and volunteers.
Ability to relate to people of different races, faiths and incomes.
Physical ability to complete work on the job site or in the store/warehouse, even during inclement weather.
Ability to regularly and safely lift 90 lbs.
Basic knowledge of building supplies.
Provide outstanding customer service to donors, volunteers and customers.
Reports to: ReStore Manager
Time Requirements: 40 hours per week
Permits and Licenses: Valid driver's license
Status: Non-Exempt
Key Responsibilities:
Participate in donation pick-up, including driving company truck.
Receive, load and unload and allocate donations.
Assist as needed with pricing, and control that inventory through price reductions.
Assist customers.
Assist store manager as directed.
Assist on deconstruction projects as needed.
Maintain vehicles.

Keep vehicles clean.
Provide maintenance reports to Resource Development Coordinator.

Check daily update of the donation calendar to reflect any changes.
Provide support and ideas to constantly improve all aspects of the ReStore.
Perform other duties as assigned.
PART-TIME LOAN PROCESSOR

Requirements:
Commitment to Habitat's mission.
Minimum 2 – 3 years directly-related experience combined with education/training in housing/lending.
Ability to provide excellent customer service in person and on the phone.
Ability to handle multiple tasks and frequent interruptions.
Ability to handle stressful situations with calmness and courtesy.
Attention to detail and excellent records and file managment skills.
Ability to communicate effectively, both orally and in writing.
Knowledge and experience using MS Word, Excel, Outlook, PowerPoint and Acess.
Ability to relate to people with diverse backgrounds, of different races, faiths and incomes.
Reports to: Vice President of Homeownership Lending
Time Requirements: 20+ hours per week
Status: Non-Exempt
Key Responsibilities:
Serve as initial point of contact for the homeownership lending program; respond to inquiries.
Provide customer service with timely and periodic status updates of their loan application.
Collect required documentation from borrowers. Order verifications and credit reports.
Establish, maintain and update files, databases, records and/or other documents for reports.
Prepare files for underwriting review and assessment.
Assure that all files are complete and in accordance with regulator agencies and policies.
Ensure customer privacy, security of files and appropriate staff access.
Prepare commitment letters and denial letters per Vice President's approval.
Maintain pipeline report and notify management of status as needed.
CONSTRUCTION SITE SUPERVISOR

Summary: 
The Construction Site Supervisor (CSS) is primarily responsible for leading the construction of Habitat homes with skilled and unskilled volunteers. The CSS shall ensure building sites are safe, productive, enjoyable, and provide a positive experience for sponsors, homeowners, and volunteers.
Essential Responsibilities:
Construction site supervision (80%)
Provide a positive and productive on-site experience for future homeowners and volunteers. Train, equip, and supervise volunteer Dream Builders, partner family members, and other volunteers on site daily.
Prepare job sites in advance of volunteer days for maximum efficiency of the build team.
Ensure projects are completed on time, on budget, and meet HFHHC quality standards. Ensure HFHHC homes are built to current building codes and any additional energy/green building certifications.
Oversee inspections, site security, and site safety.
Coordinate/Manage material orders, deliveries and subcontractor schedules with VP of Construction. Provide specifications, design, material, and subcontractor feedback as required.
Perform repairs and warranty work as needed.
Assist in preparation for special events.
Construction planning (20%)
Attend regularly scheduled department meetings. Coordinate with other CSS's regarding volunteers, shared tools and other resources.
Work with Vice President of Construction to establish construction schedule and adjust work as needed.
Participate in development and project design meetings as required.
Maintain project files for each assignment; document all relevant changes, schedules and activities.
Update Builder Trend (web-based construction management software) on project status daily with pictures and reports. Alert Vice President of all delays, potential overruns and changes in scope of work.
Other duties as delegated.
Maintain and secure smart phones and tablets provided by affiliate.
In accordance with the American Disabilities Act:
This position requires the physical ability to sit, walk and/or stand for prolonged periods of time.  This individual must also have the use of all senses, to include, but not limited to sight, hearing, smell and taste while possessing the ability to stand, stoop, bend, grasp, and/or hold to complete warehouse, storage shed, and shop work.  The normal workplace will be out of the office and in the warehouse, box truck and outside.  A majority of the work may be in non-temperature-controlled conditions. The position requires persons who are able to safely lift at least 50-100 pounds on a regular and frequent basis.
HABITAT FOR HUMANITY OF HILLSBOROUGH COUNTY IS AN EQUAL OPPORTUNITY EMPLOYER.