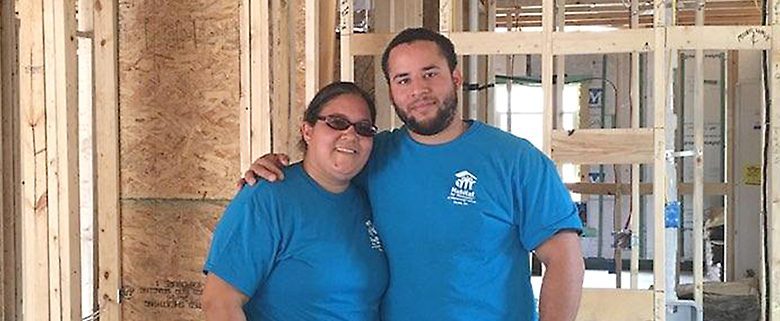 Habitat Hillsborough family featured in Centro Tampa news
Casas para los necesitados
English translation by Nitza Rivera of an article published in Centro Tampa, a publication of Tampa Bay Times. Original article in Spanish. The Pizarro-Quinones home is being sponsored by Publix Super Markets Charities.

CENTRO TAMPA by Juan Carlos Chavez / APRIL 16, 2018 — The hustle is strong and intense, but it's worth it. Today it might be our turn to help with the installation of floors, the next morning we might be doing touch ups in the bedrooms or bathrooms.
What's true is that Noris J. Quinones works daily as a volunteer, and she is happy to do it, more so in the construction of a home that will soon be hers, and in which she will be paying an affordable mortgage. This project is put forth by Habitat for Humanity, a social help organization.
The construction of the three bedroom, two bathroom home is located in a quiet neighborhood in Brandon, the perfect image that Quinones dreamed for herself and her husband Humberto Pizarro. "It's a blessing any which way you see it," said Quinones, 35.
The house could be ready for move in by end of May, and though it may seem short of a miracle or a favor from above, one may think it may have much to do with it. Maybe because these times aren't what they used to be, and because each day may seem harder to find decent and stable employment to secure a monthly income to cover the essential costs for a family on moderate income.
The Pizarro-Quinones story doesn't differ much from that of the many other young couples that arrive in Florida, eager to work hard and achieve what they weren't able to in their native land.
In the endless comings and goings, a stalled economy and current political climate that can strike a nerve, different organizations and social entities in the Tampa Bay area encourage hope and are committed to tending a bridge of solidarity. Habitat for Humanity is precisely one of those organizations.
Its concept, as stated in their webpage (HabitatHillsborough.org), has its origins in 'Koinonia Farm,' an interracial and Christian community established in Georgia. It is here that they developed the concepts of "partnership housing" and "fund for humanity."
Under the umbrella of this ideal and the flow of ideas for a more equal society, these projects are supported through public and private donations destined to support people and families in search of a home or refuge worthy of living.
Habitat for Humanity didn't take long in surpassing the limits of the state of Georgia, its origin, to change the lives of approximately seven million people around the world by providing a safe, decent and affordable home.
At local scale, the impact has not been any less, as Habitat for Humanity in Hillsborough County has built and renovated over 200 homes since 1987, the year it was established, according to an organization representative.
Quinones, with happiness and humbleness, added herself to the list of people in search of their own home after completing a rigorous application process that was far from short and simple.
"We followed the application process, and after a year they told us yes," said Quinones. "We simply could not believe it."
The rest, follows a model that involves volunteers as much as its members, to the point that the development of the project 'feels as if it were our own,' said Nitza Rivera, a representative of Habitat for Humanity.
Rivera highlighted the impact of a social project that reaches its goal.
"For me, it is important to be able to help provide a family a safe and stable home," pointed out Rivera, an ex-military member of Puerto Rican origins who served over two decades in the US Armed Forces, who then found the best formula for life by working with an organization that gives rather than takes.
In that sense, Rivera explains that the Habitat for Humanity mission relates to what she had once lived and experienced herself. "I know how it feels to go from place to place without having the basic necessities, it's because of this that our mission is so important," sustained Rivera.
The effort to build affordable housing is no easy feat.
"In Hillsborough County, the housing market is constantly growing after a long and depressed economy generated after the 2008 burst of the housing bubble. Now, with the rebirth of the market and increase in construction we are seeing a substantial increase in the home pricing, which in many cases, can be distant from what a family of moderate income can truly afford," said Rivera.
To shorten that distance and to relieve the demand for the most exposed sectors, Habitat for Humanity recently competed for a grant at county level and was awarded $100,000 that was invested towards the acquisition of the land where at least four homes are under construction on East Morgan Street in Brandon.
One of those homes is precisely for the Pizarro-Quinones family.
Cheryl Howell, director of Affordable Housing Services highlighted the importance of those funds and the impact it has in our community.
"It's an honor and great opportunity to invest in the Habitat mission, and in the collective effort the Hillsborough County Affordable Housing Services provides to strengthen our communities and the families we serve, and to guarantee the path to realize the American dream," declared Howell in a communication to Centro Tampa.
A dream that the Pizarro-Quinones couple will crown into the beginning of a life they longed for since they married two years ago.
"It's the best thing that could happen to us," said Pizarro, 28. The couple arrived in Tampa in 2015.
Quinones added that volunteering has not been a burden, but rather a responsibility that fills her heart with happiness and pure satisfaction.
"An opportunity that doesn't come twice in a lifetime," asserted Quinones.
Her obligations are not sporadic, in fact, Quinones must follow a strict schedule that goes from Tuesday to Friday from 7:30 a.m. to 2:30 p.m. Always content and decisive, Quinones puts her best forward and helps in any way she can.
"Not only because it will lower our costs," said Quinones, "But because it is also a family responsibility."
https://www.habitathillsborough.org/wp-content/uploads/2018/04/Blog-page-image-Pizarro-family.jpg
330
780
Habitat Hillsborough Editorial Team
https://www.habitathillsborough.org/wp-content/uploads/2016/03/Horizontal-logo-2color.jpg
Habitat Hillsborough Editorial Team
2018-04-18 18:17:11
2018-04-18 18:47:02
Habitat Hillsborough family featured in Centro Tampa news