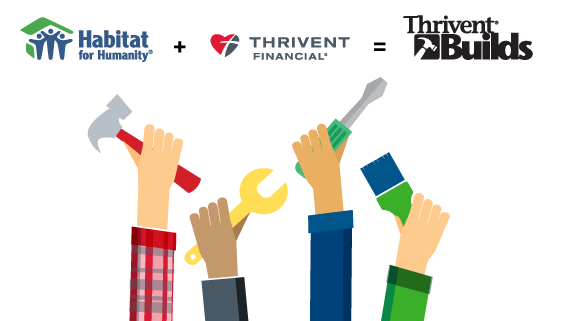 Habitat Hillsborough works in partnership with Thrivent Financial
September was an exciting month for Habitat Hillsborough's Home Preservation Program! With the support of Thrivent Financial, our Home Preservation program assisted two homeowners with remarkable transformations to the exterior of their homes. Thrivent Financial funded each Home Preservation project with a $2,500 donation, as well as recruited the volunteers for both projects.
Thrivent Financial is a Fortune 500 financial services non-profit organization of Christians who partner with Habitat for Humanity affiliates all over the country in what are called Thrivent Builds Repairs. Thrivent Builds and serves as a catalyst to strengthen communities by bringing people together to address pressing shelter needs and by inspiring members and others to live generously and be wise with money. Every Thrivent Builds activity results in volunteers being more aware of, connected to and engaged with Habitat's mission and Thrivent's purpose.
The first Home Preservation of September took place at in the Grant Park area of Tampa. Habitat assisted Kathy in pressure-washing her home, landscaping, and constructing a wheelchair accessible ramp.
For the second Home Preservation of September, Habitat was back in Plant City. April worked alongside volunteers to put a fresh coat of paint on her home, install some landscaping and to replace several sections of dilapidated fence.
Thanks to Thrivent Builds and its volunteers for their partnership and our combined goal "to bridge communities, strengthen neighborhoods and change lives".
https://www.habitathillsborough.org/wp-content/uploads/2016/10/Thrivent-Builds_K1420_562x333.png
333
562
Victoria Richards
https://www.habitathillsborough.org/wp-content/uploads/2016/03/Horizontal-logo-2color.jpg
Victoria Richards
2016-10-14 09:58:35
2017-12-04 14:52:22
Habitat Hillsborough works in partnership with Thrivent Financial