Important Changes for Women Build During Coronavirus Public Restrictions!
Habitat Hillsborough has made the decision to do its part to help slow down the Coronavirus pandemic and protect the health of our supporters by temporarily closing its build sites to volunteer activities, which includes Women Build.  For Women Build participants, this means volunteering on the home build sites will be suspended until our elected officials and health experts ease public safety restrictions. We will reschedule our Women Build teams for opportunities to volunteer on our Habitat home build sites once the public health restrictions have lessened. Please note, our April 2nd Women Build Empower Celebration will also be rescheduled and our March 21st Lowe's Tool Clinic has been canceled.
For additional details on changes to Women Build volunteering and fundraising activities, please click here.
Women Build is a woman-focused Habitat for Humanity home build event that typically spans an 8 – 12 week period.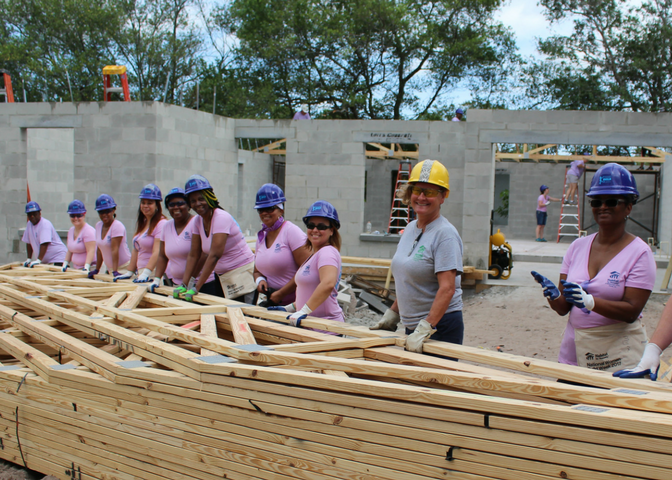 Women Build is a call to action for women looking to better their community and spread awareness of the challenges for families who can't afford decent housing. It empowers women volunteers to participate in an exciting experience constructing a home for a local family. It also provides a hands-on opportunity for women to be proactive in addressing the low-income housing needs in their communities by helping families build strength, stability and independence through affordable homeownership. The work is vital, the impact lasting.
Since 1991, women from all walks of life have come together to participate in Women Build events at Habitat for Humanity affiliate locations throughout the U.S.  Habitat for Humanity of Hillsborough County officially joined this increasingly popular tradition by hosting its first annual Women Build in the spring of 2017.
How Does Women Build Work?
1. Building the Home.
Between April 4th and June 13th, 2020, teams of women will work together on a designated build site to physically construct a Habitat home for a limited-income family in Hillsborough County.
No experience is necessary. All tools and hard hats are provided. Volunteers work under the supervision of construction professionals and alongside future Habitat homeowners. Each volunteer has the opportunity to schedule one full day of work on the build site.
2. Fundraising for the Home.
17 teams of 10 individuals will raise enough money to fund a new home construction project.
Each team or individual will schedule one full day to work on the build site.
Individual fundraising requirement to build: $600
Team fundraising requirement to build: $6,000
3. Fun Raising
Habitat Hillsborough Women Build participants will be invited to attend several fun pre-build events including the Women Build Kickoff, Women Build Empower Celebration and a How To Power Tool Clinic hosted by Lowe's Home Improvement Store. At the Kickoff event, volunteers will pick up materials designed to aid them in their fundraising efforts and they will also meet the future homeowner family. The Women Build Empower Celebration is held to honor fundraising achievements and distribute volunteer hardhats, hammers and Women Build commemorative t-shirts. Once the home is built, Women Build participants will be invited to attend the Home Dedication ceremony to see the family receive their house keys.
Click below to register individually or as a team and begin your journey! For further questions, please contact Melissa Crowther at 813-239-2242 ext. 109 or via email at mcrowther@habitathillsborough.org.
Important Dates to Remember
February 6th, 2020: Campaign Kick-Off and packet pick-up
TBD: Lowe's How-To Power Tool Workshop
March 26th, 2020: Fundraising Deadline
April 2nd, 2020: Women Build Empower Celebration
April 4th – June 13th, 2020: Build Schedule
April 4th, 2020:  Women Build Raise the Roof Truss Day
TBD:  Women Build Home Dedication
Every dollar raised will go toward the construction of the Women Build home.
Although teams are fun, you are welcome to join the Women Build as an individual.
Every woman who reaches their fundraising goal will receive a purple Women Build hardhat, t-shirt, and hammer so they can build in style.
This is an excellent opportunity to unite your friends, family, and coworkers in support of a family in need in your community.
If you are a returning Women Builder you will receive an additional tool to add to your women build tool box!
Meet Our Past Women Build Families