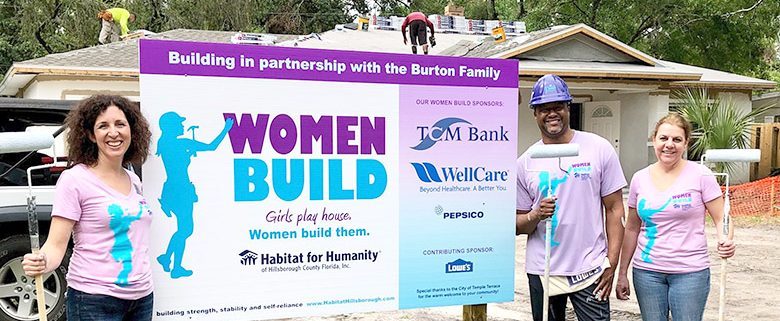 TCM Bank Executives Join Volunteers on Habitat Women Build Site
TCM Bank also presented a $10,000 check to Habitat Hillsborough
TEMPLE TERRACE, FL, May 17, 2018 – Community bank representatives spent Wednesday morning rolling paint on the walls of a Temple Terrace home built by more than 150 Habitat for Humanity "Women Build" volunteers. In honor of TCM Bank's second year as a Gold Hammer sponsor of Habitat Hillsborough's Women Build, Independent Community Bankers of America® President and CEO Rebeca Romero Rainey, ICBA Bancard® President and CEO Tina Giorgio and Tampa-based TCM Bank, N.A.® President and CEO Damon Moorer were on the build site May 16th. Rainey and Giorgio flew in from Washington, D.C. to volunteer with the Tampa team and present a $10,000 donation to Habitat Hillsborough CEO Tina Swain.
Habitat Hillsborough's Women Build is an eight-week home construction event involving more than 150 women community volunteers that has been underway since April 7th. The home, which is being built for Tangerla Burton and her four sons, will be completed by June 2nd. In addition to the 11-member team painting interior walls, volunteers from TCM Bank have helped with framing and installing ceilings since the construction began.
"Community banks have a tradition of giving back in our communities and TCM Bank is privileged to partner with an organization that shares the same values," said Moorer. "We're honored to be included in such a worthwhile effort and to help deserving families realize their homeownership aspirations."
"Our Women Build program empowers women of all skill levels to volunteer to help us build an affordable, secure home that will make a life-changing impact on the family we're building for," said Swain. "We are extremely grateful for corporate partners like TCM Bank. Their sponsorship and volunteer support not only help offset construction costs, but it also brings our community together in support of affordable housing solutions that help stabilize and strengthen local families."
A Gold Hammer sponsor for the inaugural Habitat Hillsborough Women Build in 2017, TCM Bank renewed their sponsorship and provided increased volunteer support for this year's build event. In June, TCM Bank executives will also participate in the dedication ceremony for the home when the keys will be presented to the Burton family.
About Habitat for Humanity of Hillsborough County
With a 4-star Charity Navigator rating, Habitat for Humanity of Hillsborough County builds and renovates homes in partnership with individuals and families in need of decent, affordable housing.  Habitat for Humanity of Hillsborough County is an affiliate of Habitat for Humanity International, a global housing ministry that seeks to put God's love into action, bringing people together to build homes, communities and hope. Since 1987, Habitat for Humanity of Hillsborough County has partnered with homeowners and the community to build or renovate more than 200 homes.  Families and individuals qualify for the Habitat for Humanity homeownership program based on need, willingness to partner in the program through sweat equity hours and completion of homeowner classes, and the ability to pay an affordable, zero-interest mortgage. For more details on Habitat for Humanity of Hillsborough County, visit HabitatHillsborough.org or call 813-239-2242.
About ICBA Bancard & TCM Bank. N.A.
ICBA Bancard® is the wholly owned payment services subsidiary of the Independent Community Bankers of America. ICBA Bancard's community bank issuers generated $26 billion in sales volume in 2017 and are ranked collectively as the 25th largest credit card portfolio in the United States. Through ICBA Bancard, banks provide competitive payments solutions and ICBA Bancard provides exclusive services to issuers including its Fraud Loss Protection Plan, marketing support and product education. With nearly $300 million in assets, TCM Bank, N.A., a subsidiary of ICBA Bancard, provides credit card services for community banks including portfolio acquisition, product development and agent bank sponsorship. Through its Total Card Management® program, TCM helps banks promote their branded cards while limiting their exposure to risk and expense. For more information, visit www.icbabancard.org.
https://www.habitathillsborough.org/wp-content/uploads/2018/05/Blog-page-TCM-execs.jpg
330
780
Habitat Hillsborough Editorial Team
https://www.habitathillsborough.org/wp-content/uploads/2016/03/Horizontal-logo-2color.jpg
Habitat Hillsborough Editorial Team
2018-05-30 01:24:23
2018-05-30 01:24:36
TCM Bank Executives Join Volunteers on Habitat Women Build Site