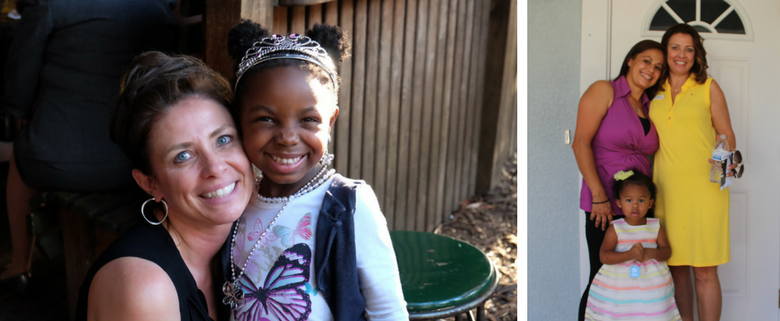 Remarks from Tina Swain, CEO
Another Habitat Hillsborough fiscal year comes to an end.  I've been here for 3 ½ years now and still can't believe it is real.
With a background in accounting and a career as a Bank CFO, the shift to non-profit leadership was not anticipated.  As I sat in the Habitat boardroom, the summer of 2013, I didn't even have the Habitat "lingo" down yet.
Yes…there is Habitat lingo…not just affordable housing lingo…but true "Habitat" lingo.  I mean…how many of you have heard of Habititis?  This is a serious condition.  It is when Habitat for Humanity becomes a significant part, maybe even a driving force, in your life.  A person with Habititis just can't get enough of Habitat.  When you witness the good that can come from seeing lives changed because of affordable homeownership under the Habitat model, it is impossible not to be inspired.  That's what happened to me, but I digress.
I sat in the boardroom and thought, I have no idea what they are talking about.  But…the more I learned and the more I could see the vision of a better community come clear, I knew I had to be a part of it.  I attended my first home dedication and that was it…I was hooked.  I could see how lives are impacted for generations because of the Habitat for Humanity program.  I could see it was not charity, it was capital that was provided to those that just needed a hand up instead of a handout.  The homeowners were working alongside dedicated volunteers building their homes.  They were getting an education in homeownership with the help of the Habitat staff.  They were saving and sacrificing a lot to ensure they made it through the process to get to the point of obtaining a mortgage.  That's the most incredible part, these homes aren't given away, Habitat homebuyers pay for them.  Yes, it is at zero or low interest, but they are paying for them so their payments can be turned into more housing for others that need a hand up.
Then, 6 months after joining the Board, the Finance Director decided to make a career change and I asked if the Board would like me to step down and join the staff.  To my amazement, I began work as the Habitat Hillsborough Finance Director in January 2014 and 3 ½ years later, I am serving as the CEO of a growing organization.
You just never know what God has planned for you.  I know now that I had to experience all that I did in my career to be able to serve in this position.  As most people know, you take a new job and think…I hope this works out.  In all honesty, there were times that I wondered what in the world I did!!  What I've learned is that when you let God lead you and you work diligently for His glory and not your own, you will always find your way.  I can't imagine being anywhere else at this point in my life and I owe it all to God…the successes of this organization are for His glory.  This is His mission and those of us that are blessed enough to be on the staff have the distinct honor of living out this mission every day.  Thank you to all of you that serve with me…the staff, the Board, the volunteers, the sponsors, my friends, and supporters.  I think I've found my purpose.
https://www.habitathillsborough.org/wp-content/uploads/2017/08/Facebook-Post-4.png
330
780
Victoria Richards
https://www.habitathillsborough.org/wp-content/uploads/2016/03/Horizontal-logo-2color.jpg
Victoria Richards
2017-08-14 11:30:15
2017-08-14 11:30:15
A Case of "Habititis"