To apply for any position, please send your resume to hr@habitathillsborough.org.
All resumes will be reviewed upon receipt.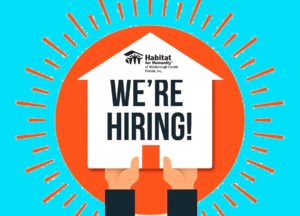 Positions currently open:
RESTORE DRIVER
Classification:  Non-Exempt
Reports to:  ReStore Manager
Summary/Objective:  The associate will participate in the pick-up of donated items and driving a company truck, handle and/or allocate donated items, and assist customers when needed. This position requires good interpersonal and communication skills, ability to use professional values and ethics to effectively interact with others, strong time management skills, and the ability to prioritize multiple tasks.
Essential Functions:
Participate in donation pick-up, including driving company truck.
Receive, load and unload and allocate donations.
Assist customers, as needed.
Support the store manager as directed.
Participate on deconstruction projects as needed.
Maintain vehicles.
Keep vehicles clean.
Check daily update of the donation calendar to reflect any changes.
Provide support and ideas to constantly improve all aspects of the ReStore.
Perform other duties as assigned.
Competencies:
Commitment to Habitat's mission.

 

Provide outstanding customer service to donors, volunteers and customers.
Ability to relate to people with diverse backgrounds.
Effective written and verbal communication skills.
Attention to detail.

 

Self-starter with ability to work both independently and with other staff and volunteers.

 

Basic knowledge of building supplies.
Work Environment:  The work environment characteristics described here are representative of those an associate encounters while performing the essential functions of this job in a retail store.  This role routinely uses standard office equipment such as computers, phones, tablets, filing cabinets, and fax machines.   
Physical Demands:  The physical demands described here are representative of those that must be met by an associate to successfully perform the essential functions of this job.  While performing the duties of this job, the associate performs the following activities: standing; walking; working overtime and Saturdays; exposure to heat, wind, and rain; driving box trucks and operating warehouse equipment; ability to lift 90 pounds or more.
Position Type/Expected Hours of Work:  This is a full-time hourly position.  The typical workweek is Monday – Saturday with a day off during the week.  The day off will change on a weekly basis.  The ReStore locations are closed on Sunday.
Education, Experience and Attributes
Valid driver's license required.
High school graduate or equivalent.
Driving box truck – 1 year preferred.
Customer service experience – 1 year preferred.
Retail experience – 1 year preferred.
Bilingual is preferred.
Neat and clean professional appearance.
Other Duties:  Please note this position description is designed to cover or contain a comprehensive listing of activities, duties or responsibilities that are required of the associate for this job.  Duties, responsibilities and activities may change at any time with or without notice.
CONSTRUCTION SITE FOREMAN
Summary/Objective:  This position requires the ability to build homes, lead volunteers and coordinate subcontractors. This position also performs tasks, repairs and warranty work as needed.
Essential Functions:  Reasonable accommodations may be made to enable individuals with disabilities to perform the essential functions.
Job Site Supervision (80%)
Provide a positive and productive on-site experience for future homeowners and volunteers. Train, equip, and supervise volunteer Dream Builders, partner family members, and other volunteers on site daily.
Ensure projects are completed on time, on budget, and meet HFHHC quality standards. Ensure HFHHC homes are built to current building codes and any additional energy/green building certifications.
Oversee inspections, site security, and site safety.
Construction Planning(20%)
Work with Vice President of Construction to establish construction schedule and adjust work as needed.
Maintain project files for each assignment; document all relevant changes, schedules and activities.
Update Builder Trend (web-based construction management software) on project status daily with pictures and reports. Alert Vice President of all delays, potential overruns and changes in scope of work.
Competencies:
Proven record in construction supervision with increasing levels of responsibility and skills.
Demonstrated planning and organizational skills, including the ability to anticipate tasks, set priorities, meet deadlines, and function smoothly under strict deadlines and shifting priorities. Ability to multi-task, balance multiple priorities, and work in deadline-driven and fast-paced environment.
Ability to follow a construction schedule and coordinate suppliers, subcontractors, staff and volunteers to meet specific construction goals.
Education, Experience and Attributes:
Valid driver's license required.
Experience with construction site supervision.
Bilingual is preferred.
Neat and clean professional appearance.
ANNUAL FUND DIRECTOR
Classification:  Exempt
Reports to:  Chief Development Officer
Summary/Objective:  Under the supervision of the CDO, the Annual Fund Director is responsible for leading a comprehensive annual fund campaign, managing donor engagement with intent to increase individual donor giving, managing the donor database and participating in special fundraising initiatives as needed.
Essential Functions:
Plan and implement the organization's annual fund campaign; establish and meet campaign goals.
Develop new strategies for solicitation of donors including use of direct mail and online tactics.
Manage annual fund campaigns/societies to retain and cultivate donors.
Maintain contact with donors and solicitors sending weekly reports and gift acknowledgements.
Coordinate volunteers to assist with campaign mailings.
Develop campaign acknowledgment letters, the annual letter, end of year appeal and related campaign materials in coordination with marketing support.
Assist marketing in development of stories and data for newsletter, blogs, social media or other communications.
Work with Resource Development staff to customize materials.
Enter and maintain donor and campaign data in the donor database.
Produce comparative reports with focus on donor retention, response rates and other pertinent data points.
Other duties as needed
Competencies:
Must have a minimum of three years' experience fundraising for non-profits or similar experience.
Experience with individual donor giving and managing an annual fund campaign.
Experience managing a donor database.
Excellent communication skills, both verbal and written, with attention to detail and follow through.
Excellent computer, writing, and proofreading skills.

 

Exceptional organization skills with ability to work under pressure on multiple projects simultaneously while adhering to deadlines with limited supervision.
Experience interacting with diverse staff.
Flexibility to adapt to changing work environment.
Position Type/Expected Hours of Work:
This is a full-time exempt position.  The typical workweek is Monday – Friday.  This position will require some evenings and weekends.
Education, Experience and Attributes:
Desire to work towards Habitat's mission.
College degree required; prefer degree in communications-related field.
Three+ years of fundraising experience, ideally in a non-profit organization
Ability to take initiative and make effective recommendations to staff and leadership.
In accordance with the American Disabilities Act:
This position requires the physical ability to sit, walk and/or stand for prolonged periods of time.  This individual must also have the use of all senses, to include, but not limited to sight, hearing, smell and taste while possessing the ability to stand, stoop, bend, grasp, and/or hold to complete warehouse, storage shed, and shop work.  The normal workplace will be out of the office and in the warehouse, box truck and outside.  A majority of the work may be in non-temperature-controlled conditions. The position requires persons who are able to safely lift at least 50-100 pounds on a regular and frequent basis.
HABITAT FOR HUMANITY OF HILLSBOROUGH COUNTY IS AN EQUAL OPPORTUNITY EMPLOYER and seeks to employ and assign the best qualified personnel for all our positions in a manner that does not unlawfully discriminate against any person because of race, color, religion, gender, marital status, age, national origin, physical or mental disability, sexual orientation, veteran/reserve national guard status, or any other status or characteristic protected by law.