To apply for any position, please send your resume to hr@habitathillsborough.org.  All resumes will be reviewed upon receipt.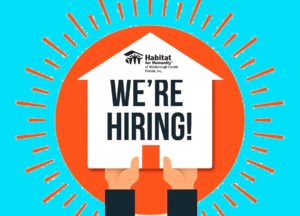 Positions currently open:
RESTORE DRIVER and ASSOCIATE
Summary/Objective:
Responsible for assisting customers in the operation of the ReStore. The associate will assist in the pick-up of donated items, handle and/or allocate donated items, and assist customers when needed. This position requires good interpersonal and communication skills, ability to use professional values and ethics to effectively interact with others, strong time management skills, and the ability to prioritize multiple tasks.
Competencies:
Commitment to Habitat's mission.

Provide outstanding customer service to donors, volunteers and customers.

Ability to relate to people with diverse backgrounds.

Effective written and verbal communication skills.

Attention to detail.

Self-starter with ability to work both independently and with other staff and volunteers.

Basic knowledge of building supplies.
Position Type/Expected Hours of Work:
This is a full-time non-exempt position.  The typical workweek is Monday – Saturday with a day off during the week.  The ReStores are closed on Sunday.
Education, Experience and Attributes
Valid driver's license required.

High school diploma or equivalent.

Driving box truck – 1 year preferred.

Customer service experience – 1 year preferred.

Retail experience – 1 year preferred.

Bilingual is preferred.

Neat and clean professional appearance.
In accordance with the American Disabilities Act:
This position requires the physical ability to sit, walk and/or stand for prolonged periods of time.  This individual must also have the use of all senses, to include, but not limited to sight, hearing, smell and taste while possessing the ability to stand, stoop, bend, grasp, and/or hold to complete warehouse, storage shed, and shop work.  The normal workplace will be out of the office and in the warehouse, box truck and outside.  A majority of the work may be in non-temperature-controlled conditions. The position requires persons who are able to safely lift at least 50-100 pounds on a regular and frequent basis.
HABITAT FOR HUMANITY OF HILLSBOROUGH COUNTY IS AN EQUAL OPPORTUNITY EMPLOYER and seeks to employ and assign the best qualified personnel for all our positions in a manner that does not unlawfully discriminate against any person because of race, color, religion, gender, marital status, age, national origin, physical or mental disability, sexual orientation, veteran/reserve national guard status, or any other status or characteristic protected by law.