Welcome to our Veterans Initiative!
Serving those who served.
Are you a veteran in need of an affordable home, home repair or looking to get involved in your community? Habitat Hillsborough supports local veterans through homeownership, home repair and volunteer programs. We also connect military veterans more deeply with their community through volunteer service opportunities.
Having a veteran on staff has given us a better understanding of the housing needs of veterans in our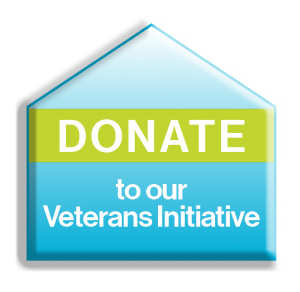 community.  Through volunteer groups from The Mission Continues, Team Rubicon, Team Red White & Blue, and The Wounded Warrior Project who assist us on our build sites, Habitat Hillsborough has also become increasingly aware of the need for veterans to reintegrate back into their communities after military service. By establishing our Veterans Initiative, we hope to assist and empower local veterans with homeownership solutions and opportunities to partner with Habitat on service projects that help make a transformational impact for families in our community.
• SPECIAL COMMUNITY EVENT! VETERANS BUILD SERVICE WEEK 2022

Thank you to all sponsors and participants of our Veterans Build SERVICE WEEK 2021 volunteering and fundraising event, which completed its final day on Veterans Day with improvements to New Beginnings of Tampa, a transitional shelter serving homeless veterans. In addition to our Week of Service, we completed another Veterans Build new construction (2 bedroom/1 bath) of a cottage home with enclosed garage for a local vet in need of stability through affordable homeownership.
Each year, our Veterans Build Week of Service is open to the general public, no experience necessary. Join the fun while making a difference for 7 local veteran homeowners in need of home repairs during this very special event. Check back in the early fall of 2022 for registration and sponsor support info.
• APPLY FOR HOMEOWNERSHIP!


Habitat Hillsborough offers limited income veterans the opportunity to purchase affordable, secure, well-built homes with no down payments and zero-interest mortgages*. Program requirements for qualifying applicants include 300-375 sweat equity hours and completion of homeowner preparatory classes. Income eligibility for a Habitat home is based on HUD's Area Median Income for Hillsborough County. Click the button to complete the  initial application process. 
• APPLY FOR HELP WITH HOME REPAIRS!
Our Home Preservation Program provides low-income veterans who own and live in their homes with overdue exterior home repair services. Groups of volunteers help homeowners with exterior maintenance. This typically includes painting, minor exterior repairs, landscaping, weatherization and exterior clean-up. Eligibility is based on income, need and willingness to partner.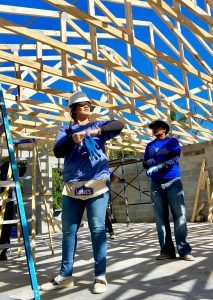 • VOLUNTEER OPPORTUNITIES FOR VETERANS!
We are honored to partner with veterans who have given so much in service to our country and continue to give of themselves to make a difference for families in our community. Volunteer opportunities are always available for individual veterans and veterans groups on our home build sites and in our ReStores. Sign up now!
• SPONSOR A VETERAN HOME BUILD!
Habitat for Humanity homes are often built in partnership with corporate and foundation sponsorships. For each home we build for a veteran we hope to obtain corporate support. To sponsor a veteran home build, please contact Richard Rogers at rrogers@habitathillsborough.org.
• DONATE!

Support our Veterans Initiative home building and home repair programs with a financial donation that helps cover construction materials.  Our Charity Navigator 4-Star rating means you can trust that your donation is being used responsibly.  Donate now!
*Habitat Hillsborough Veterans Initiative Loan Rate

Habitat Hillsborough Veterans Initiative Loan Rate and APR calculations assume a $170,000 home loan, based on appraisal and sales price, over the applicable term for purchase of a single-family primary residence with no down payment, with applicable charges and fees (including the Habitat Processing Fee and Settlement Fee). The interest rate and APR quoted here are subject to change without notice and will vary based on your final loan amount and finance charges. Borrowers are required typical Buyer Closing Costs, including doc stamps, applicable taxes, recording fees, etc.