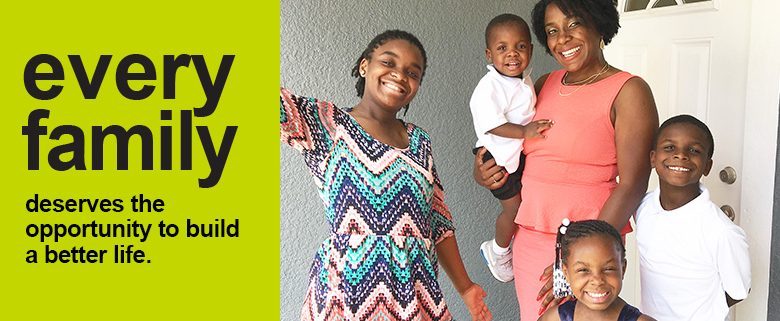 Building a Home and a Strong Foundation for Children
"Thank you for blessing us with the opportunity. Habitat will forever be a part of our tradition of giving thanks during Christmas." – Candice Cowen
Like most mothers, Candice Cowen knows love is the principal foundation for raising children. But she has come to realize that having a physical foundation is also important. The lumber, brick and mortar that provide basic shelter, also provide a stable, nurturing environment for a family to not just grow, but bloom.
Prior to becoming Habitat Hillsborough homeowners, the Cowen family lived in a poorly maintained property with a leaky roof, a pest problem and a faulty air conditioning system. The neighborhood was crime-ridden. Someone was murdered near their townhome and Candice's car was broken into twice. Understandably, she didn't let her kids play outside. But the three-bedroom rental was all she could afford, so she and her four children learned to live with many problems.
"I am trying build a strong foundation for my kids by giving them a good example," said Candice. She worked hard to keep a roof over their heads and provide for their needs. Being self-sufficient is very important to her. And so is stability. But the modest income she earns as a credit card banking associate limited her options and kept her living paycheck to paycheck. So she has decided to go back to school with the hope of someday obtaining a better paying position.
After learning she was accepted into the Habitat Hillsborough program last year, Candice was delighted when told her home was going to be built by Habitat Hillsborough's first Women Build. Last June after two months working with over 130 women volunteers, Candice and her children received the key to their new home – and a brighter future.
Having the chance to buy a Habitat for Humanity home has been a godsend for Candice. That strong foundation she wants for her family is no longer a metaphor. The family now has a secure home and the kids have a yard and a safe neighborhood where they can play. With enough space to entertain guests, Candice was thrilled to host Thanksgiving for her family for the first time. Celebrating Christmas in a home of their own brought a joy and sense of peace the Cowens have never known.
"Thank you for blessing us with the opportunity. Habitat will forever be a part of our tradition of giving thanks during Christmas."
Celebrate the season by supporting a cause you believe in with a gift that has lasting impact.
Your holiday gift to our annual donor appeal helps keep Habitat Hillsborough building so more local families like the Cowens can know the transformational impact and security of an affordable home.
We can't do it alone. We need your help.
Thank you for your support. Together, we build homes, not houses.
https://www.habitathillsborough.org/wp-content/uploads/2017/12/EOY-6-Cowen-Blog-page.jpg
330
780
Habitat Hillsborough Editorial Team
https://www.habitathillsborough.org/wp-content/uploads/2016/03/Horizontal-logo-2color.jpg
Habitat Hillsborough Editorial Team
2017-12-22 12:18:29
2017-12-22 12:18:29
Building a Home and a Strong Foundation for Children