Celebrate World Habitat Day on October 3rd!
On World Habitat Day, the first Monday of October, Habitat for Humanity joins the United Nations and other organizations around the world in raising awareness, educating and mobilizing individuals and communities to take action on the global housing crisis.
World Habitat Day is a special opportunity for Habitat for Humanity to call on individuals and organizations to help us address the need for affordable housing.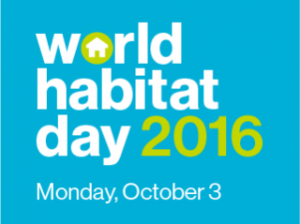 On World Habitat Day, we hope you will join us by taking the following actions:
Adopt-A-Door

A simple door can symbolize so much, but it is a universal symbol of home. Help us raise awareness of World Habitat Day and the issues of affordable houising by "adopting" doors decorated by Hillsborough County residents. Our goal is to place doors in high traffic areas where it can be seen easily by passer-by.

Blueprint and Blue Jeans

Go casual for a cause! $5.00 buys a day in jeans at your place of work. Organize a corporate jeans day campaign and show your support for Habitat Hillsborough!

Show Your Support

Shop at our East Hillsborough ReStore or our Silvermill ReStore and donated $1 or more to pledge your support.

Celebrate with Us

Join Habitat Hillsborough on World Habitat Day as we dedicate the Robinson home and celebrate our amazing volunteers! Dedication begins at 4:30pm at the Robinson home and the fun continues with "VolunteerFest" at Lowry Park Trail until 7:30pm. RSVP to Victoria Richards at volunteers@habitathillsborough.org or at 813-239-2242.

Get Social

SHARE

: visit Habitat Hillsborough on Facebook and Instagram. Share our World Habitat Day posts and create your own!
TAG: Be sure to use the hashtag #WorldHabitatDay and #HabitatHillsborough on related posts.
CHANGE: change your social media profile picture on October 3rd and call for a change in the fight for affordable housing.
Great companies and organizations, like Dunkin' Donuts in New Tampa, Tampa Bay Federal Credit Union, and Florida West Coast Credit Union, have already pledge their support.
With your help, we can improve the lives and communities – at home and around the globe.
For more information, please contact Melissa Jay, V.P. of Resource Development, at mjay@habitathillsborough.org or 813-239-2242.
https://www.habitathillsborough.org/wp-content/uploads/2016/09/whd16-post-twitter.jpg
500
1000
Victoria Richards
https://www.habitathillsborough.org/wp-content/uploads/2016/03/Horizontal-logo-2color.jpg
Victoria Richards
2016-09-19 17:31:08
2016-09-19 17:32:22
Celebrate World Habitat Day on October 3rd!