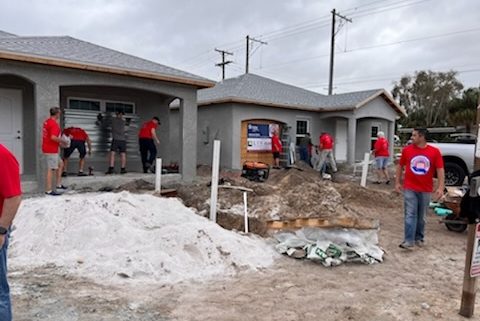 Habitat for Humanity of Hillsborough County Receives Grant Award from Disabled Veterans National Foundation
TAMPA, Fl. August 29, 2022 – Habitat for Humanity of Hillsborough County is honored to announce it has received a grant from the Disabled Veterans National Foundation (DVNF) for $6,000.00 which will fund the building of wheelchair ramps helping disabled veterans to continue to live safely in their own homes.
Tina Forcier, CEO of Habitat for Humanity Hillsborough County said, "Our goal is to help ensure that Hillsborough County veterans and their families continue to experience affordable and safe shelter and that veterans can participate fully and safely in daily activities. Our most frequent request is for ADA-compliant accessibility ramps that will enable veterans to safely exit and enter their homes."
Joseph VanFonda (USMC Sgt.Maj. Ret.), CEO of the Disabled Veterans National Foundation said, "We are proud to partner with the Habitat for Humanity of Hillsborough County and the incredible work they are doing with veterans through their "Continue to Live Safely in Their Own Homes" program. What a powerful gift for disabled veterans to have the cost of materials covered as ADA-compliant ramps are built at their homes. We are excited to help support them through this grant in their efforts and look forward to seeing the great work they do this year."
About the Disabled Veterans National Foundation:
Disabled Veterans National Foundation exists to provide critically needed support to disabled and at-risk veterans who leave the military wounded—physically or psychologically—after defending our safety and our freedom.
DVNF achieves this mission by:
● Offering direct financial support to veteran organizations that address the unique needs of veterans, and whose missions align with that of DVNF.
● Providing supplemental assistance to homeless and low-income veterans through the Health & Comfort program and various empowerment resources.
● Providing an online resource database that allows veterans to navigate the complex process of seeking benefits that they are entitled to as a result of their military service, as well as additional resources they need.
● Serving as a thought leader on critical policy issues within the veteran community and educating the public accordingly.
About Habitat for Humanity Hillsborough: Habitat Hillsborough helps low- and moderate-income families in our community build strength, stability, and self-reliance through affordable homeownership. Our programs support both potential and existing homeowners. We provide all these services to limited-income veterans in our community, from helping them obtain new, affordable homes to maintaining their current homes to adding accessibility features that keep homes safe.
Our mission: Seeking to put God's love into action, Habitat for Humanity brings people together to build homes, communities, and hope.
Disabled Veterans National Foundation Contact:
Communications Team
Meredith Fick
communications@dvnf.org
https://www.habitathillsborough.org/wp-content/uploads/2023/06/IMG_1559.jpg
360
480
Habitat Hillsborough Editorial Team
https://www.habitathillsborough.org/wp-content/uploads/2016/03/Horizontal-logo-2color.jpg
Habitat Hillsborough Editorial Team
2023-06-29 19:32:00
2023-06-29 19:58:50
Habitat for Humanity of Hillsborough County Receives Grant Award from Disabled Veterans National Foundation