Habitat on the Hill – One Vision, Many Voices
Thoughts from our CEO, Tina Swain
Going to Washington D.C. right after the Presidential inauguration had me wondering what I was in for, given the chaotic political environment.  I wondered if we would have any impact, or if our message would be drowned out by the anticipation of what was going to happen next.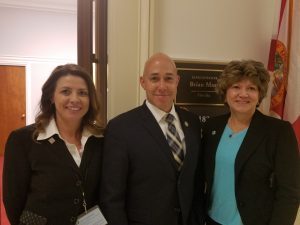 Then, as I entered the hotel to join over 250 Habitat colleagues from across the nation, I realized…we DO have a voice.  We have an exceptional brand and we do great work to help people gain strength, stability and self-reliance through shelter.  What we have that is even greater than a brand is the passion for fulfilling a mission that is God-given.  So many people in a room with different backgrounds and different political beliefs but all uniting around the vision of a world where everyone has a decent place to live.  Electricity was in the air, and we were going to be heard!
Here's what I learned:
Relationships drive everything – This is something that any successful person will tell you. We must continue to work on being a better version of ourselves, so we can increase our circle of influence.  This isn't about what you can gain by the relationship but by what you can give to the relationship…if that is the heart you approach friends, family and colleagues with, you will find that great things are happening in your life.  Great things happen because you are a blessing to others, and they want to support what you are doing all the while knowing that you didn't befriend them for what they could give or do for you.
We are mountain movers – Matthew 17:20 tells us "Because of your unbelief; for assuredly, I say to you, if you have faith as a mustard seed, you will say to this mountain, 'Move from here to there,' and it will move;  and nothing will be impossible for you."  When we understand the resilience of a mustard seed…it can tolerate pests and varying weather…we realize that we are called to be strong in our faith, and we, too, can accomplish things far greater than we can imagine – We can move mountains!
When "we come together in unity…and speak the truth in love, we may grow up in all things into Christ, who is the Head – from whom the whole body, joined and knit together by what every joint supplies, according to the effective working by which every part does its share, causes growth of the body for the edifying of itself in love.  (Eph 4:13, 15)  If we stretch outside our comfort zone and work past our differences to build a foundation of trust with people we may not normally encounter, we become one body united behind something greater than ourselves.  Good intentions are not enough.  Don't be defensive if we have differences (mountains), when they mention the mountain, listen more and be willing to acknowledge our own prejudice, so we can begin to work together and move those mountains.
We must use our voices – Going to D.C. I was concerned that I didn't know how to approach this thing called advocacy. How do you advocate?  After sitting in the first meeting with Congressman Mast, I knew this is where I belonged.  Mast lost his legs in Afghanistan, and there he was, continuing to serve.  What bravery!  If he can do that, surely I can have some meetings to inform people about our affordable housing crisis… and right then, the fears of advocacy left me.  It isn't rocket science, it is simply informing those who have to make decisions about things they may not be experts about.  In this way, we can help others get a chance at a better life.  All you have to have is passion, and you can do it.
Our voice is loud when we work together to move the mountain!  It is a great challenge, but I'm still dreaming of a world where everyone has a decent place to live!  Let's Build!!
https://www.habitathillsborough.org/wp-content/uploads/2017/02/669984f2-e2a5-4b6d-8083-2e67d96f9aa4.png
250
780
Victoria Richards
https://www.habitathillsborough.org/wp-content/uploads/2016/03/Horizontal-logo-2color.jpg
Victoria Richards
2017-02-15 00:15:53
2017-02-22 00:23:31
Habitat on the Hill – One Vision, Many Voices