Habitat Hillsborough Global Village team builds "Lego-like" house from recycled plastic bricks
Building a home is always an adventure for our Habitat volunteers, but for the team of 12 Habitat Hillsborough volunteers who flew to the Dominican Republic on July 13 to participate in a Habitat Global Village home build, it is feeling a little like child's play.  That's because this Global Village build is a pilot project for a new construction system using recycled plastic prefabricated building blocks. Yes, kind of like Legos!
So not only is this our first Global Village trip for our Habitat Hillsborough affiliate, but our team will also experience a new style of construction that focuses on solving affordable and sustainable housing issues by utilizing discarded plastics that are causing so many environmental concerns.
The plastic bricks are products of Conceptos Plasticos, which was founded by three Colombian architects and social entrepreneurs. Led by architect Oscar Andres Mendez, Conceptos Plasticos recycles plastic waste into an alternative construction material. Once the plastic is melted, it is poured into a mould with the end result producing highly durable plastic blocks that resemble Lego blocks. The Lego-like blocks are not only cost-efficient and easy to assemble, but they can also withstand earthquakes.  And because they contain an additive, the blocks are fire-resistant.
In addition to the plastic blocks being a cheap and durable construction option, communities and families are capable of building their own homes with minimal training. Plus, the recycled plastic bricks have the added bonus of being eco-friendly. By keeping plastic out of landfills and giving them new life as building materials, pollution and CO2 emissions are reduced.
This innovative recycled materials initiative has economic, environmental and social impact. Using recycled plastic as building material for homes has the potential to help solve the housing deficit in Africa, Asia and Latin America where 40% percent of people do not own a home.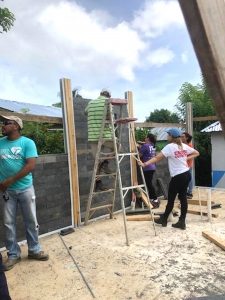 In a 2016 company statement, Conceptos Plásticos emphasized its social commitment: "Our comprehensive project benefits lots of vulnerable sectors, it also creates a sustainable solution that endures over time. The building process involves entire families and communities while mitigating the environmental problem caused by pollution, which of course leads to climate change. The project also has a social impact in impoverished areas most in need, where the unique designs of the building elements, based on recycled materials, allows anyone to build quickly, efficiently and cheaply."
Many thanks to our Habitat Dominican Republic liaison Nathalie and to Habitat's local build partner in Las Terrenas, Sembradores del Reino. Sembradores del Reino has built lasting relationships with the people of the Dominican Republic and Las Terrenas,through church sponsored medical clinics, community outreach with construction projects and a sponsorship program.
We can't wait to hear more from our volunteers when they return home! Let's Build!
Click here to learn more about these recycle plastic blocks.
https://www.habitathillsborough.org/wp-content/uploads/2019/07/Blog-page-Lego-Blocks.jpg
330
780
Habitat Hillsborough Editorial Team
https://www.habitathillsborough.org/wp-content/uploads/2016/03/Horizontal-logo-2color.jpg
Habitat Hillsborough Editorial Team
2019-07-18 18:26:34
2019-07-19 07:38:48
Habitat Hillsborough Global Village team builds "Lego-like" house from recycled plastic bricks