Habitat Hillsborough hosts eight-day Veterans Build service event
Nearly 100 volunteers and 9 corporate sponsors to participate in home repair and construction service projects for eight local veterans.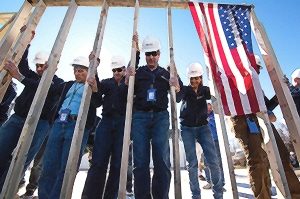 TAMPA, FL (October 29, 2018) – In an effort to "serve those who served," nearly 100 community volunteers will work with Habitat for Humanity of Hillsborough County to repair, renovate, rejuvenate and construct the homes of eight local military veterans during Habitat's eight-day "Veterans Build" service event. Veterans Build corporate partners Bank of America and Hancock Whitney Bank will also field volunteers throughout the event, which begins Monday, November 5th with home repair work and concludes Monday, November 12th with the start of new construction on a home for Army veteran Adam Damewood and his wife, Nancy.
Throughout the first seven days, Veterans Build volunteers – including veteran volunteers – will assist in exterior home repairs, fence and ramp construction, painting, yard cleanup and landscaping for older and disabled veterans who have served in all branches of the military. On the final day, volunteers will be on a Habitat construction site pushing trusses into place to raise the roof on the Damewood home.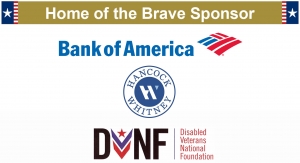 Veterans Build is in conjunction with Habitat Hillsborough's ongoing "Veterans Initiative" program, which offers zero-interest homeownership opportunities and APRs as low as .028% all year long for limited income veterans, as well as home repair services for low-income veterans who are already homeowners. Habitat recently received grant funding to support its Veterans Initiative program including $25,000 grants from Bank of America and Hancock-Whitney Bank and a $10,000 grant from Disabled Veterans National Foundation. The Veterans Initiative program also partners with veterans organizations such as The Mission Continues, Team Rubicon and The Wounded Warrior Project to provide service opportunities for veterans interested in volunteering on the Habitat Hillsborough home build sites.
"Since the launch of the Veterans Initiative, we have tremendously increased our community outreach and, with that, the demand for services," said Habitat Hillsborough Veterans Initiative Outreach Coordinator Nitza Rivera, who led the effort to establish Habitat's veteran program. "This week-long Veterans Build service event not only helps us raise money to fund our Veterans Initiative program all year long, but it also provides us an opportunity to spotlight our program and the tremendous need for services that help our local low-income veterans.
Additional sponsor support for the Habitat Hillsborough Veterans Build includes Johnson & Johnson, Belcan, Kablelink, Fifth Third Bank, PNC Bank, and Sargento.
More information on Habitat Hillsborough's Veterans Initiative and Veterans Build can be found online at https://www.habitathillsborough.org/news-and-events/veterans-initiative/
###
https://www.habitathillsborough.org/wp-content/uploads/2018/10/Blog-page-VB-sponsors.jpg
330
780
Habitat Hillsborough Editorial Team
https://www.habitathillsborough.org/wp-content/uploads/2016/03/Horizontal-logo-2color.jpg
Habitat Hillsborough Editorial Team
2018-10-29 18:55:15
2018-10-29 19:39:15
Habitat Hillsborough hosts eight-day Veterans Build service event