Habitat Hillsborough's helping hands have been busy swinging hammers, paint brushes and rakes this summer to assist our Home Preservation Program (HPP) in tackling much needed maintenance for two local homeowners.
In mid July, our HPP staff and several volunteers helped the Duggan family restore damaged and dilapidated areas of their Thonotosassa home. Mrs. Duggan is physically disabled and her husband is her primary caretaker. They live on a fixed income and requested assistance in fixing damaged T1-11 siding on their home, painting, and replacing dilapidated front porch landing and steps.
LLW construction was able to make repairs to the damaged siding the week before a wonderful group of volunteers from Heritage Christian Community Baptist Church came out to paint the home and clean up the yard. The crowing touches were added by our super volunteers, Bob and Doris Meyer, who constructed new front porch steps that are now stable and safe for the Duggans to enter their home. (See before/after photo above.)
Most recently, HPP assisted the Scott family with their home on Park Ave. A team of volunteers from Bank of America came out and did a huge amount of yard clean-up, weeding and trimming.  They also demolished the Scotts' existing dilapidated fence. After the tremendous volunteer effort, we hauled away three full dump trailer loads of vegetation, trash and the old fence! The clean-up made way for the new fence, which was built by Habitat Construction Site Supervisor Steve Tinsley and HPP Manager Jeremy Cooke. (See before/after photo below.)
Thank you and three cheers for all the volunteers who helped us with these projects! And best wishes to the Duggan and Scott families as they enjoy the enhancements to their property these generous volunteers helped make possible.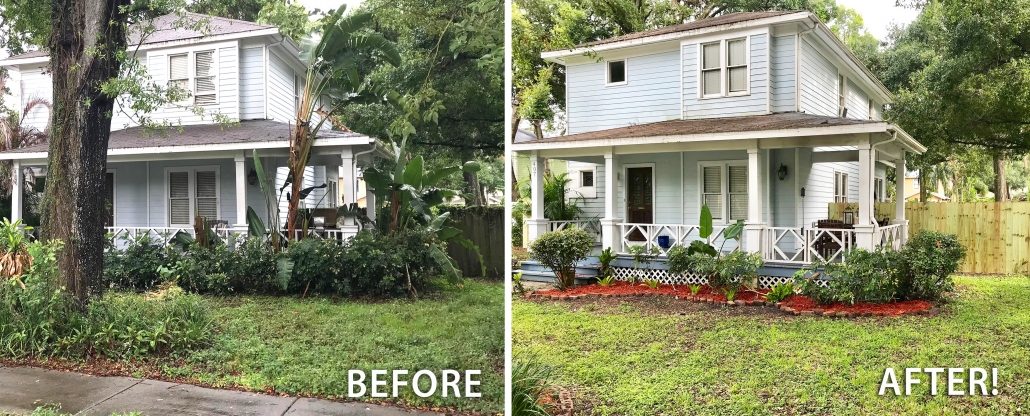 Are you a homeowner eligible for our HPP services?
If you currently own a home that needs minor repairs and exterior enhancement, you may be eligible for the Home Preservation Program. We offer this program to qualified limited income homeowners in Hillsborough County who are willing to partner with us, through sweat equity, to improve their home's exterior presentation and durability. Eligible repairs include pressure washing, scraping, caulking, painting, minor soffit/fascia repair, yard clean-up, additional landscaping, porch repairs and accessible ramps. Through the support of our generous partners and volunteers, we are able to provide these materials and services at a fraction of the cost to the homeowner.
https://www.habitathillsborough.org/wp-content/uploads/2018/07/Blog-page-HPP-Rejuvenate.jpg
330
780
Habitat Hillsborough Editorial Team
https://www.habitathillsborough.org/wp-content/uploads/2016/03/Horizontal-logo-2color.jpg
Habitat Hillsborough Editorial Team
2018-07-26 17:44:57
2018-07-27 13:50:32
Habitat's Home Preservation repairs, replaces and rejuvenates local homeowner properties.