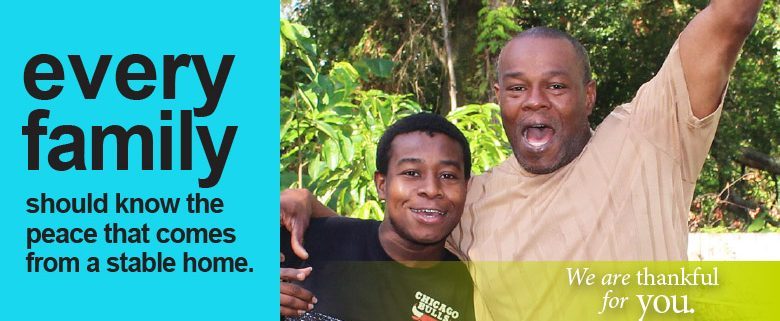 After enduring much personal hardship, Joseph Aubrey likes to say he went from homeless to "homeful" since becoming a Habitat homeowner nearly two years ago. Having a family home he can comfortably afford has eased more than financial burdens. It brings him peace he's not had for most of his life. Whether he's inside or outside, his home is a space he treasures as he watches his family and his backyard garden bloom.
The stability that has come with owning a home has impacted Joseph's children. "Since we moved into our home, everything is fine," said Joseph. The children are doing well in school. And no one has been sick. Everyone is healthy."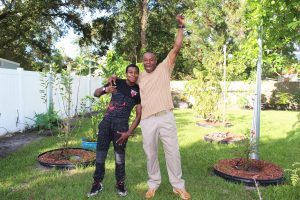 For Joseph, one of the best things about partnering with Habitat was being able to help build his home. "From the dirt in my beautiful yard and garden to building our beautiful bedrooms, it was most meaningful working side by side with my son, Dudley, the Habitat staff, and so many volunteers."
"Having a home we can afford has eased a big load of stress, sorrows, frustrations, pain and tears. It's a payment I can make and at the same time save a little extra to help my family. I thank God and Habitat for helping me lift the heavy burden off my shoulders through homeownership. My family and I are able to relax and have peace since moving into our own home."
Most people particularly love their home during Thanksgiving and Christmas, and for Joseph and his children home for the holidays takes on extra meaning. "Celebrating the holidays are wonderful. We can now have friends and family come over and not feel so cramped from lack of space, and this makes spending time together more fun for all of us."
Joseph encourages other struggling families to consider Habitat. "I would tell anybody considering applying to the program, be blessed, be strong, be real. I have been there and I was homeless one time. Now I am homeful, because Habitat is REAL."
Celebrate the season by supporting a cause you believe in with a gift that has lasting impact.
Your holiday gift to Habitat helps local families like Joseph's know the stability and peace of mind that affordable homeownership provides.
Together, we build homes, not houses.
https://www.habitathillsborough.org/wp-content/uploads/2017/12/EOY-2-Aubrey-Blog-page.jpg
330
780
Habitat Hillsborough Editorial Team
https://www.habitathillsborough.org/wp-content/uploads/2016/03/Horizontal-logo-2color.jpg
Habitat Hillsborough Editorial Team
2017-12-04 11:02:58
2017-12-04 14:47:19
Meet the Aubrey Family