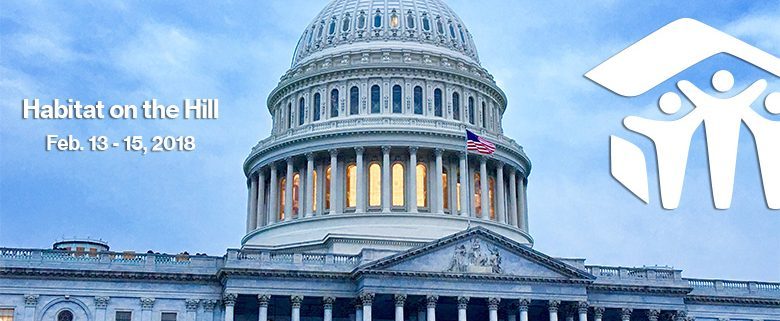 Proposed federal budget cuts will exacerbate affordable housing crisis
PLEASE HELP ADVOCATE FOR HABITAT AND AFFORDABLE HOUSING!
In the coming months, Habitat Hillsborough will advocate for affordable housing with local representatives in the Tampa Bay area. We are encouraging them to call on Congress to set aside this flawed budget proposal and instead work to prioritize solutions that will end the affordable housing crisis. We are also asking our Habitat Hillsborough supporters to contact our local U.S. Congressmen and Senators to urge them to decline this budget and protect programs that assist organizations like Habitat for Humanity in their work to provide struggling families and individuals with affordable housing.
ATLANTA (Feb. 12, 2018) – Leading affordable housing nonprofit Habitat for Humanity is warning that cuts proposed by the White House today will worsen the affordable housing crisis facing communities across the U.S. and around the world.
The budget proposed by the White House today would drastically cut—and in some cases entirely eliminate—funding that communities use to finance the development of new affordable homes. This includes the elimination of Community Development Block Grants; the Home Investment Partnerships Program, or HOME; the Self-help Homeownership Opportunity Program, or SHOP; and the Section 4 program, as well as major cuts to the Community Development Financial Institutions Fund. States, cities and organizations like Habitat use funding from these programs to build and improve affordable housing across the country.
Including Habitat Hillsborough CEO Tina Swain and Habitat homeowner Rhea Robinson, over 340 Habitat for Humanity leaders, volunteers and homeowners are in Washington, D.C., this week advocating for affordable housing. In meetings with the offices of more than 400 members of the House and Senate, they will call on Congress to set aside this flawed budget proposal and instead work to prioritize solutions that will end the affordable housing crisis.
"With more and more families across America facing the choice between making housing payments and buying food, we are called on to rise to this challenge together. This moment calls for greater investment in affordable housing, not less," said Jonathan Reckford, CEO of Habitat for Humanity International. "We urge Congress to rise to this moment by rejecting these cuts and investing now before another generation of struggling families are forced to pick between housing and food."
A recent survey of mayors of U.S. cities showed affordable housing to be one of their highest concerns, irrespective of party affiliation. More than half of mayors cited high housing costs as the most common reason that people are leaving their cities.
"There is no question that we are in an affordable housing crisis," Reckford said. "More than 18 million families are paying more than half of their paychecks on their housing. Leaders in cities and towns across the country are sounding the alarm, because even middle-class workers like teachers can no longer find housing that fits their budgets. We will make sure those voices are heard in Washington this week as we meet with members of Congress."
In international funding, Habitat is encouraged that the administration has reversed its proposal to eliminate the Overseas Private Investment Corporation and instead is evaluating proposals to expand development finance opportunities. However, the White House budget does call for drastic cuts in international funding that Habitat and other nongovernment organizations use to help improve the shelter conditions of poverty-stricken people around the world. This includes significant cuts to global humanitarian and development assistance at the U.S. Agency for International Development.
"There are more than 1.6 billion people around the world raising their families in slums and the most dire of circumstances," Reckford said. "As Habitat's work has shown, small investments in housing overseas can have a major impact. The United States cannot abandon its role in the global community's mission to reduce global poverty, particularly when that work is so vital to our own national security and economic interests."
The budget would also eliminate the AmeriCorps program through the shuttering of the Corporation for National and Community Service. AmeriCorps is a vital component of Habitat's work to partner with more families working toward homeownership. Thousands of AmeriCorps members have served their communities in a variety of ways, including more than 10,000 members working through Habitat where they have helped build homes and helped rebuild in disaster-stricken areas.
https://www.habitathillsborough.org/wp-content/uploads/2018/02/Blog-page_Habitat-on-the-Hill.jpg
330
780
Habitat Hillsborough Editorial Team
https://www.habitathillsborough.org/wp-content/uploads/2016/03/Horizontal-logo-2color.jpg
Habitat Hillsborough Editorial Team
2018-02-14 16:18:50
2018-02-14 18:15:29
Proposed federal budget cuts will exacerbate affordable housing crisis