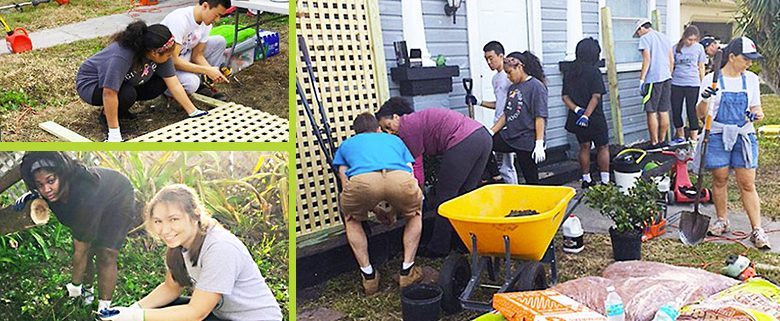 Tampa Catholic's Habitat Club helps with home preservation
We are always pleased when our volunteers have a fulfilling experience on our Habitat work sites. Such is the case with an enthusiastic team from Tampa Catholic High School who helped out our Home Preservation Program a few weeks ago. Many thanks to TC for volunteering and for sharing this article and photos by Dr. Carole Byrd with us!
Recently, the Tampa Catholic Habitat for Humanity Club showed up at a construction site at a house on Morton Avenue at 7:30 in the morning to perform a home preservation. The club president, Ryan Berardi, and club vice president, Chris Frey, were accompanied by student members Layton Wilkinson, Tiffany Parker, Joseph Antonaccio, Abby Haughn, Leeah Bell, and the club moderator Dr. Byrd. Five parents had volunteered to stay a little while and help, but as the morning began six parents and two siblings of TC students joined the group and worked for the entire event: Mr. and Mrs. Berardi, Mr. and Mrs. Haughn and their son Ethan (Abby's brother), Mr. Chris Frey, Sr., and Mrs. Bell and Spencer Bell (Leeah's brother). The site manager, Jeremy, was amazed that the TC volunteers cleared the yard, removed and repaired sheds, restored the garden, and created a list of needed upcoming fixes in almost half the time that the average volunteer groups take.
This was a remarkable effort of cooperation and hard work by students and their families. Jazmine, the owner of the house, and Jeremy, the site manager let the students and their families know that Jazmine found herself alone with five children, without her husband, at the same time that her grandfather passed away. He left her this house, so she was sheltered, but the house had not been kept up in his fading years, and it had been previously rented to tenants who had left unwanted and unsafe items for her children in the yard. She sought a plan and materials from Habitat to help keep her in her new home, and she was blessed with the committed TC volunteer team who transformed her yard into a garden and safe place for children to play. In addition to spending time with the family of the newly preserved home, TC students took a tour of the neighborhood to look at other Habitat projects and learned more about the many ways that Habitat for Humanity helps families get and keep a permanent home.
  — Dr. Carole Byrd, TC Habitat for Humanity Club Moderator
https://www.habitathillsborough.org/wp-content/uploads/2018/03/Blog-page-TC-volunteers.jpg
330
780
Habitat Hillsborough Editorial Team
https://www.habitathillsborough.org/wp-content/uploads/2016/03/Horizontal-logo-2color.jpg
Habitat Hillsborough Editorial Team
2018-03-12 19:33:17
2018-03-12 19:33:17
Tampa Catholic's Habitat Club helps with home preservation