Candlelight Celebration Caps Off Veterans Build 2019
Thanks to the generosity of our Veterans Initiative partner, Bank of America, and 27 participating sponsors, in-kind donors and hundreds of volunteers, we had an outstanding Veterans Week of Service November 5th – 11th and Veterans Build new home construction for Air Force veteran Vincent Smith and his brother, Caleb, which began Veterans Day.
After an amazing effort by our Veterans Build volunteers and sponsors, the home was completed in less than six weeks. A special candlelight dedication of the completed Veterans Build home was held Dec. 19th where Vincent received the key to his home from Bank of America Tampa Bay Market President Bill Goede.
Volunteers are the Heartbeat of Habitat
During the course of Veterans Build our volunteers invested over 1,312 hours in helping build the home. Over the seven days of our Veterans Week of Service, we repaired and rejuvenated six low-income veteran homes and a VFW with 504 volunteer hours invested. Thank you to all who lent a helping hand on this very special home build and Home Preservation Program projects.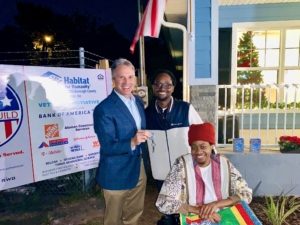 We Cannot Do This Without Our Corporate Partners
Thank you to our Veterans Initiative partner, Bank of America, who for the second consecutive year has supported our veterans programs. Special thanks to Dale and Glenn Johnson for donating the land.  Many thanks to Veterans Build partners Home Depot and American Roofing & Sheet Metal Inc., who donated and installed a metal roof on the cottage style home. It is the first time we have had a metal roof on a Habitat Hillsborough home. A debt of gratitude is owed to all our Veterans Build sponsors and in-kind donors including: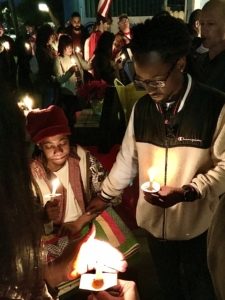 Bank of America
Dale and Glenn Johnson
American Roofing & Sheet Metal Inc.Home Depot
Aleman C0nstruction Services
Tri County Metals
APOC
Gulf Tile
Homee on Demand
Time Insulation
Builders First Source
Massey Services Inc.
Johnson & Johnson Technologies
Whiting Turner
T-Mobile
Belcan
Sargento
Thrive Behavioral Sciences
Regions Bank
The Mission Continues
Team Red White & Blue
Valspar
Whirlpool
SquareD
Sunbelt
Tampa Civil Design
CREE
Mission Barbecue
Thank you! We hope to see you all next fall for our 2020 Veterans Build!
https://www.habitathillsborough.org/wp-content/uploads/2020/01/Blog-page-VET-2019-ded-scaled.jpg
1083
2560
Habitat Hillsborough Editorial Team
https://www.habitathillsborough.org/wp-content/uploads/2016/03/Horizontal-logo-2color.jpg
Habitat Hillsborough Editorial Team
2020-01-07 18:29:59
2020-01-08 00:32:53
Candlelight Celebration Caps Off Veterans Build 2019