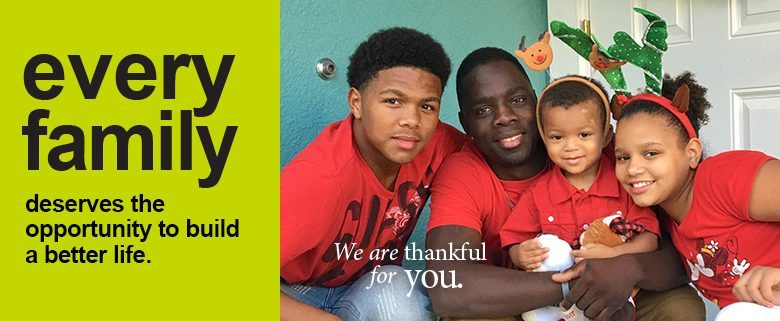 Celebrating Christmas for the first time in a home of their own.
"Waking up Christmas morning in our new home? I'm sorry, but there is no word that could describe that feeling." – Joel Pierrelus
Whether you volunteer your time to help us build or contribute monetary gifts, your partnership with Habitat helps change the trajectory of lives in a way that empowers families. It helps stabilize them, and with that stability comes strength and self-reliance.
This year, gifts from Habitat supporters like you helped make just such an impact for many local families.
Families like Joel Pierrelus and his children who will celebrate Christmas for the first time in a home of their own.
Raising three children while working two jobs would be a challenge for any parent. Imagine at the end of each long, action-filled day that the bed you climb into is the living room couch. And on other days, your bed is the floor in your children's room. Such was the life of Joel Pierrelus before purchasing his Habitat home in September.
Recently divorced, Joel is raising his two sons and daughter.  His modest income as a grocery clerk made it difficult to provide adequate housing for his children. He was grateful for the support of his family, and especially his brother with whom the family shared a two-bedroom apartment.
All three children slept in one of the bedrooms while Joel's brother had the other. Joel slept on the couch and sometimes the bedroom floor when his brother had company. The family had little privacy and there wasn't enough space for the family's clothes, toys and other belongings.
The neighborhood was less than safe, so Joel didn't allow his children to play outside by themselves. With little space to play indoors and limited play time outdoors, the tiny apartment was not a nurturing environment to raise children.
But dreams do come true and prayers get answered. With Habitat's help, the family's housing hardships are in the past since they turned the key on their affordable new forever home.
This year, for the first time ever, Joel will hang lights on his roof as the Pierrelus family decorates a Christmas tree inside their home. A home where each of them has their own bedroom and a yard for the kids to play. A home that brings them comfort and joy this Christmas and every day forward. The transformational power of an affordable and secure place to call home will extend well into the future as Joel's children are put on a brighter, more hopeful path.
We'd like more parents like Joel to enjoy the peace of mind that comes with being able to provide the stability for their children that comes from homeownership.
By this time next year, with your help, we will have many more local families living in Habitat homes where they can nurture their children and thrive, where their financial burdens can be eased, enabling them to be more secure and independent.
We need your help to do it.
During this season of giving, if you have blessings to spare, we ask that you include Habitat Hillsborough on your holiday gift list. Your tax-deductible contribution to our annual donor appeal will help us continue to build affordable homes for local families like Joel's. The work you help us accomplish for local families with your gift is vital, its effects lasting.
For the many lives your gift will impact and the support that helps expand Habitat's reach in our community, we thank you.
Together, we build homes, not houses.
https://www.habitathillsborough.org/wp-content/uploads/2017/12/EOY-4-Pierrelus-Blog-page.jpg
330
780
Habitat Hillsborough Editorial Team
https://www.habitathillsborough.org/wp-content/uploads/2016/03/Horizontal-logo-2color.jpg
Habitat Hillsborough Editorial Team
2017-12-19 18:11:47
2017-12-19 18:13:58
Celebrating Christmas for the first time in a home of their own.