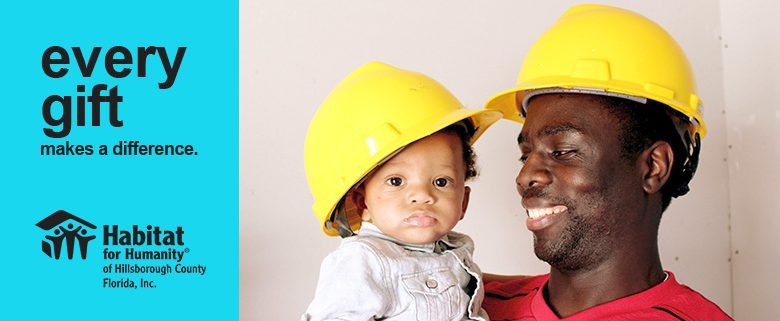 Your gift helps local families help themselves!
Every child needs a safe, stable place to grow up. Your gift helps Habitat Hillsborough build that stability for many hard working local families.
Take the Pierrelus family. This time last year, a home of their own was but a dream for Joel Pierrelus and his three children. Working two jobs, trying to make ends meet on a modest income and desperately wanting stability for his family, Joel was frustrated that affordable housing in a safe neighborhood was tough to find. So the Pierrelus family shared a small apartment where the kids slept in one bedroom while Joel slept on the couch. No room for privacy. Little room for their belongings. No yard where the children could play or have friends over. It was all he could afford and his situation left him few options for building a secure environment for his family.
Until Joel found out about Habitat.
Joel was accepted into Habitat Hillsborough's program and given the opportunity for a pathway to an affordable home for his family. He worked hard in his partnership with Habitat, juggling his work schedule and caring for his kids while completing the required ten classes and 300 sweat equity hours. After building all spring and summer alongside hundreds of Habitat volunteers, Joel's dream became reality this September when he received the key to his home and a zero interest mortgage he could comfortably afford.
The Pierrelus family has much to be thankful for as they celebrate the Christmas holidays for the first time ever in a home of their own. A home where they each have a bedroom, including Joel! A home that is affordable and enables Joel to even save a little extra each month to provide for his children.
"I wanted my kids to have a place they can call their own, a home to grow up in with a yard to play in and create memories," said Joel. "I am so thankful."
On behalf of the families Habitat Hillsborough serves, we thank you for your generous support.
Together, we build homes, not houses.
Donate today!  Help Habitat Hillsborough empower parents like Joel to build stability and a strong foundation for their children.
https://www.habitathillsborough.org/wp-content/uploads/2017/11/EOY-GivTues-Blog-page_ALT.jpg
330
780
Habitat Hillsborough Editorial Team
https://www.habitathillsborough.org/wp-content/uploads/2016/03/Horizontal-logo-2color.jpg
Habitat Hillsborough Editorial Team
2017-11-27 20:58:32
2018-01-02 09:54:39
Your gift helps local families help themselves!