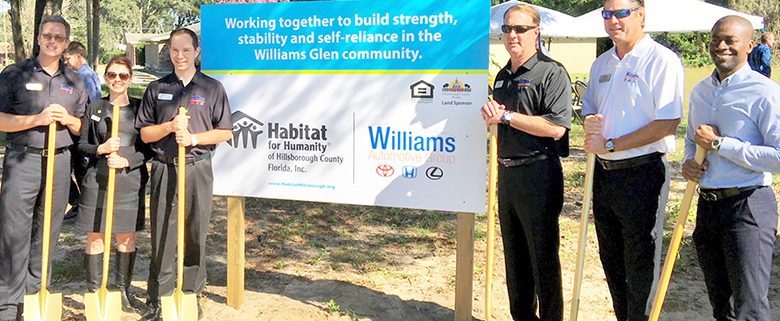 New Habitat Williams Glen community kicks off construction with groundbreaking
FOR IMMEDIATE RELEASE
The five "Williams Glen" Habitat homes are sponsored by Williams Automotive Group
BRANDON, FL (November 10, 2017) – One week before Thanksgiving five Hillsborough County families will be counting their blessings early as a dozen gold shovels turn the dirt for the symbolic start of construction on their Habitat for Humanity homes. The five homes will be built in Brandon as part of a new Habitat for Humanity community, Williams Glen, sponsored by Williams Automotive Group. The kickoff celebration and groundbreaking will take place at 10 a.m. on Thursday, November 16th at five lots at 702 East Morgan Street in Brandon.
Williams Automotive Group executives will attend the November 16th ceremony to officially open the construction sites and meet the Habitat families whose homes will be built there. In addition to providing funding, Williams Automotive Group will support the neighborhood build effort with hundreds of volunteer hours invested by its staff during all phases of construction of the homes. All five homes will be completed by June 2018.
The Habitat families who will reside in the Williams Glen community will have an experience that will bind them as neighbors in a unique way. As they fulfill the 300 sweat equity hours required of each family by the Habitat Hillsborough program, the families will be working side by side with each other and community volunteers as they help build each other's homes.
"We have partnered with Habitat for Humanity in 10 previous home builds and have seen firsthand how decent, affordable homeownership has improved the lives of low-income families," said Michael Speigl, Vice President, Williams Automotive Group. "We are excited to help make a larger impact for more local families by partnering with Habitat Hillsborough on a neighborhood that provides the affordable homeownership opportunities that have proven effective in helping stabilize low-income families."
Tampa Honda/Williams Automotive Group is committed to serving the local community through its "Active Community Involvement" program that sends out employees weekly to serve at charities throughout Tampa Bay.
For more information on how to qualify, sponsor or volunteer for a Habitat for Humanity home, please call 813-239-2242.
###
About Habitat for Humanity of Hillsborough County
Habitat for Humanity of Hillsborough County became an affiliate in 1987 and is part of a global, nonprofit housing organization founded and operated on Christian principles. Habitat Hillsborough is dedicated to eliminating substandard housing locally through constructing, rehabilitating and preserving homes; by advocating for fair and just housing policies; and by providing training and access to resources to help families improve their housing conditions. Habitat Hillsborough also operates two ReStores at 3738 E. Hillsborough Avenue and 11236 W. Hillsborough Avenue, which offer a wide variety of new and used building materials and home goods at discount prices. Habitat Hillsborough has built over 180 homes across the county. In addition, Habitat serves existing low-income homeowners as a resource for exterior maintenance services through their Home Preservation Program.
About Williams Automotive Group
Williams Automotive Group is the parent company overseeing Wesley Chapel Toyota, Wesley Chapel Honda and Tampa Honda. Established as Southeast Automotive Group in 2000, Williams Automotive Group continues to expand in the state of Florida.
Mr. Williams has 35+ years experience in the automotive industry not only on the retail side, but also previously with Southeast Toyota Distribution. Previous dealerships the group has owned include Toyota Mall of Georgia, Kia Mall of Georgia, Toyota Mall East, Mitsubishi Mall of Georgia, Infiniti of Ft Myers, Gwinnett Place Kia and Hyundai Mall of Georgia.
Williams Automotive Group supports organizations such as St. Joseph's Children's Hospital of Tampa, Metropolitan Ministries, Habitat for Humanity, and Ronald McDonald House.
The Williams Automotive Group was recently awarded the open Lexus of Wesley Chapel point.
https://www.habitathillsborough.org/wp-content/uploads/2017/11/Blog-page-image-WillmsGln-Groundbrk-2.jpg
330
780
Habitat Hillsborough Editorial Team
https://www.habitathillsborough.org/wp-content/uploads/2016/03/Horizontal-logo-2color.jpg
Habitat Hillsborough Editorial Team
2017-11-13 13:29:34
2017-11-22 20:36:35
New Habitat Williams Glen community kicks off construction with groundbreaking