Habitat Homeowner's Daughter Talks About What Home Means to Her
After several years of moving from apartment to apartment in search of affordable and secure shelter, Latifah Aldrich and her daughter, Amya, will soon be closing on their new Habitat home built in partnership with our Faith Build sponsors. Special thanks to our 2020 Faith Build partners All Saints Lutheran Church and Carrollwood Baptist Church. Amya recently sent us a letter telling us how much their home means to her.
Hello my name is Amya and I'm writing this letter to say thank you to everyone who helped build and donated to me and my mom on our first home.  I wanted to tell you what having a home means to me and how thankful I am.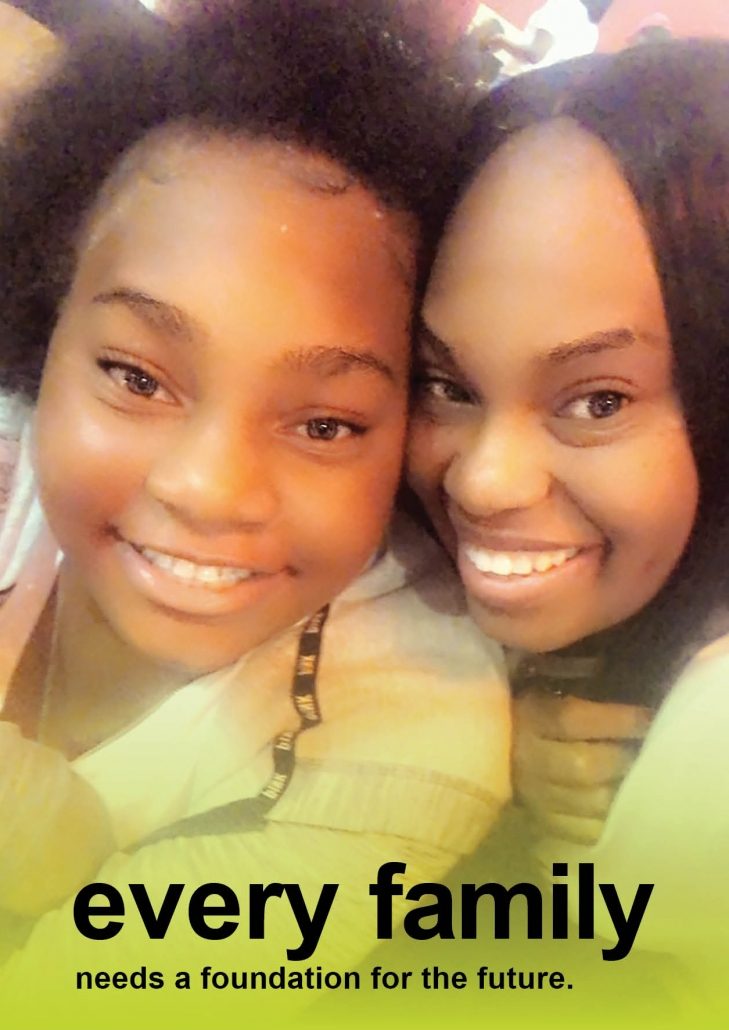 Home is not a place, it's a feeling. What I love most about my home is who I share it with. There is nothing more important than a good, safe, secure home. Home is a place you grow up wanting to leave, then go off to college.  Home is where I am raised and will continue to be raised. Where I play, laugh, cry get yelled at by my Mom and learn valuable lessons. It is where I will continue to grow up. Home is where I will learn to be a strong young woman, confident in my future and in my past.
Home is more than four walls and a roof over my head at night. It is the feeling that when I walk through the door, it's mine. It is the people who wait for me to get home, like my nanny, papa or my mom. My home is my solid foundation, as my mom would tell me!  I will take it with me when I leave. Having a home helps you form who you are.
Home for me is made of experiences, moments of my life when I was a little girl that helped to change me and to teach me. For that reason, my home is also people called family. No matter where I go in my future, my foundation will always be firm and with those people who have taught me how to live. I know that I can always come home. After all, home is where the heart is. No matter where I go in the future, my foundation will always be strong and those people who have taught me how to live will see me grow up.
But a Habitat home is something more special than that. A habitat home is a place, where you feel comfortable. A house is just shelter. A home is a place that one loves to live in, but a house one just lives in. A home is built with a family, a Habitat family, but a house has no intentions of family life. A house belongs to you, but you belong to a home. Habitat for Humanity of Hillsborough County and the Faith Build community, this is what you have given me and my mom. We have always had a place to stay, but it wasn't always our home. My mom has always made sure I had everything I needed and wanted. This program has given us something that will always belong to me and my mom.
As a single parent raising me, I know that my mom is very thankful.  She works extremely hard and always makes sure that whatever she does in life, it's always for me. I watch her often and even though I don't say, it she's my Shero! She graduated high school with me as an honor student and then she did it again in college. I'm super proud of her. She deserves everything that you guys give her.
I just want to thank everyone who helped make our dream come true. We got to see our first home being built and take pictures from the beginning to the end! We prayed often to have a house, not just an apartment, and thanks to the Faith Build community and Habitat for Humanity of Hillsborough County, we will OFFICIALLY be homeowners soon! Thank you guys so much! Now I get to decorate my own room however I want and I'll always know it was you guys who made it possible.
Love Always, Amya Cotney
https://www.habitathillsborough.org/wp-content/uploads/2021/01/Blog-page-Aldrich-home-scaled.jpg
1083
2560
Habitat Hillsborough Editorial Team
https://www.habitathillsborough.org/wp-content/uploads/2016/03/Horizontal-logo-2color.jpg
Habitat Hillsborough Editorial Team
2021-01-14 22:05:06
2021-01-15 17:34:39
Habitat Homeowner's Daughter Talks About What Home Means to Her