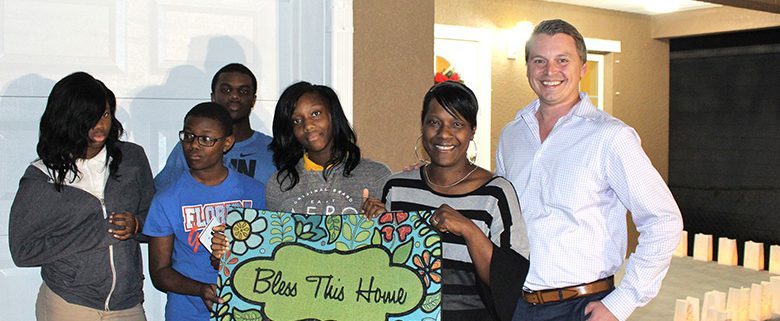 Jerry Ulm Chrysler Dodge Jeep Ram donates $115,000 to build Habitat home
TAMPA, FL, December 8, 2017 – After many years dreaming of celebrating Christmas in a home of their own, a Hillsborough County family's dream came true during a festive candlelit ceremony when they received the key to their Habitat for Humanity home Thursday evening. The key to the home was presented to Bethelney Killins and her children by Drei Ulm, General Manager, Jerry Ulm Chrysler Dodge Jeep Ram, whose dealership contributed $115,000 in partnership with Habitat for Humanity of Hillsborough County to underwrite construction costs.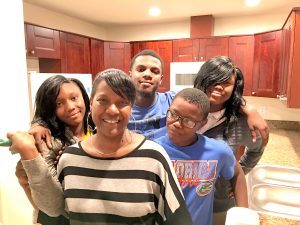 Killins invested nearly a year fulfilling her Habitat program requirements, completing 10 classes and working over 300 sweat equity hours on the Habitat construction sites building alongside hundreds of community volunteers, including several volunteer teams from the Jerry Ulms staff. Killins' new Habitat for Humanity home will enable her to have an affordable mortgage proportionate to her modest income as a retail store cashier. The zero-interest monthly payment will help ease stressful financial challenges on the Killins family, creating an opportunity for stability and self-reliance.
"We're just incredibly happy to have been a part of the journey for the family," said Drei Ulm. "It was great getting an education on the process and finding out just how hard these individuals work, the blood sweat and tears they put into the project themselves. I have tremendous respect for anyone who works hard for what they want, and it is very clear that Beth has done just that."
The City of Tampa donated the land where the home was built to Habitat for Humanity of Hillsborough County. Vanessa McCleary, Housing and Community Development Manager for the City of Tampa Affordable Housing Department, also made remarks during the dedication ceremony.
About Jerry Ulm Chrysler Dodge Jeep Ram
Jerry Ulm Chrysler, Dodge, Jeep, Ram is family operated and proudly connected to the community we share here in Tampa, FL. We take special pride in creating positive customer experiences, which is why our slogan has always been "We Treat You Like Family." Our experienced and committed sales team take great care in honoring that mission statement, set forth by the Ulm Family over 20 years ago and the Morgan Auto Group, which acquired the dealerships in September. Jerry Ulm Chrysler, Dodge, Jeep, Ram is located near at 2966 N Dale Mabry Highway in Tampa.
https://www.habitathillsborough.org/wp-content/uploads/2017/12/Blog-page-Ulm-Dedication.jpg
330
780
Habitat Hillsborough Editorial Team
https://www.habitathillsborough.org/wp-content/uploads/2016/03/Horizontal-logo-2color.jpg
Habitat Hillsborough Editorial Team
2017-12-13 16:18:17
2017-12-13 16:18:17
Jerry Ulm Chrysler Dodge Jeep Ram donates $115,000 to build Habitat home