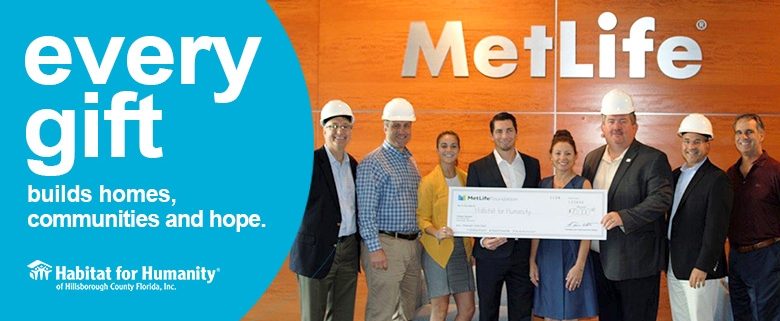 MetLife Foundation commits $70,000 to partner with Habitat Hillsborough for Tampa home build
TAMPA, FL, September 14, 2018 – When the roof trusses are raised by MetLife volunteers the morning of September 15 it will signify the beginning of another home build for a low-income Hillsborough County family. It will also mark the visible beginning of a partnership for MetLife Foundation and Habitat for Humanity of Hillsborough County to further Habitat's mission of providing affordable homeownership opportunities that help stabilize low-income families. The MetLife Foundation-sponsored home in north Tampa will be built for Teshia Lundy and her daughter, who will be working alongside volunteers for the official opening of the construction site to volunteers.
Earlier in August, MetLife Tampa executives presented a $70,000 check to Habitat Hillsborough CEO Tina Swain to underwrite construction costs related to the build. In addition to the funding commitment, MetLife Tampa will also field several employee teams who will volunteer on the home build site during varying phases of construction. Over the course of the build, MetLife anticipates having approximately 150 volunteers, amassing nearly 1,200 hours, assisting with construction.
"MetLife and Habitat for Humanity share a common goal of building healthier, more resilient communities around the world," said Tom Sarnese, vice president of Long-Term Care Claims and interim Tampa site leader for MetLife. "We're excited for the opportunity to build our first home together, and join our MetLife colleagues in other cities around the world who have shared in this experience."
Lundy, employed as a file clerk and currently living in a small apartment in a high crime neighborhood, is also considered a partner with Habitat Hillsborough for the home build. She is currently working to complete 300 sweat equity hours on the Habitat build sites in lieu of a down payment and attending 10 homeowner preparation classes as required by her agreement with Habitat Hillsborough. Upon completion of construction and her program requirements, Lundy will purchase her affordable home mortgage before moving into the home with her daughter.
The Lundy home will be built on Meridel Drive in north Tampa on land donated to Habitat Hillsborough by Deborah and Clyde Reade. The anticipated construction completion date is November 17th. A date for the home's dedication and key presentation ceremony will be announced in early November.
###
 About MetLife Foundation
MetLife Foundation was created in 1976 to continue MetLife's long tradition of corporate contributions and community involvement. Since its founding through the end of 2017, MetLife Foundation has provided more than $783 million in grants and $70 million in program-related investments to organizations addressing issues that have a positive impact in their communities. In 2013, the Foundation committed $200 million to financial inclusion, and our work to date has reached more than 3.5 million low-income individuals in 42 countries. To learn more about MetLife Foundation, visit www.metlife.org. 
About MetLife
MetLife, Inc. (NYSE: MET), through its subsidiaries and affiliates ("MetLife"), is one of the world's leading financial services companies, providing insurance, annuities, employee benefits and asset management to help its individual and institutional customers navigate their changing world. Founded in 1868, MetLife has operations in more than 40 countries and holds leading market positions in the United States, Japan, Latin America, Asia, Europe and the Middle East. For more information, visit www.metlife.com.
https://www.habitathillsborough.org/wp-content/uploads/2018/09/Blog-page-MetLife-NR.jpg
330
780
Habitat Hillsborough Editorial Team
https://www.habitathillsborough.org/wp-content/uploads/2016/03/Horizontal-logo-2color.jpg
Habitat Hillsborough Editorial Team
2018-09-14 16:42:51
2018-09-17 14:50:10
MetLife Foundation commits $70,000 to partner with Habitat Hillsborough for Tampa home build