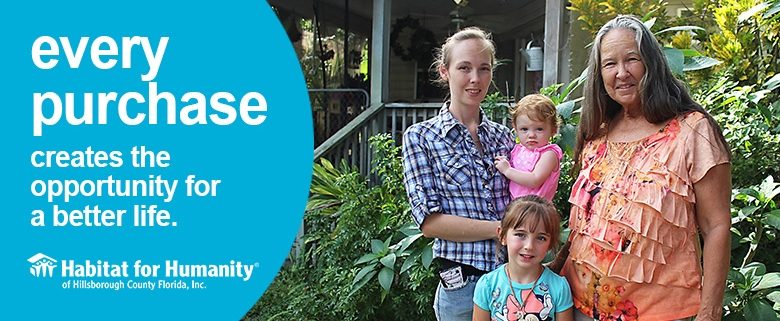 The triumph of making that last mortgage payment. (Yay!)
There's no better feeling than the moment you sign your closing documents and receive the key to your own home. Except maybe that moment you make your LAST mortgage payment!
Many Habitat Hillsborough homeowners have experienced the joy of paying off their mortgages and have reflected on how those affordable mortgages have impacted their lives. Only a few months ago, our Habitat staff gathered with four homeowners to have a mortgage burning party! With happy tears and broad smiles, we celebrated the triumph of successfully completing decades of monthly payments that were the key to strengthening their families and putting them on a brighter path.
The Journey to Stability:  Meet Mary Ann
"I transformed from a dependent person not sure where I was headed next to a stronger, more self-reliant woman with the healthy home life I had always been seeking." – Mary Ann Rodriguez, Habitat homeowner
Decades ago, Mary Ann Rodriguez found herself at the end of a long, painful road that led her to a women's shelter for battered women – and a new direction. With the help of the shelter workers, she gathered her inner strength and resolved to chart a new course for herself and her young daughter.
The shelter workers helped her find a safe rental apartment she could afford on the modest income she earned working for Hillsborough County Road Maintenance. She shared the rental with another single mom. But Mary Ann yearned to be more independent. So when she heard about Habitat for Humanity and the chance to own her own home and control her own destiny, she set her sights on the program. After completing Habitat's sweat equity and homeowner education requirements, Mary Ann was thrilled when the day arrived to obtain her mortgage and receive the key to a home she could afford — one that would actually help ease her financial burdens and provide a solid foundation for her family. As she stepped through her doorway, she knew she was stepping into a life of independence and an environment where she could nurture her child and finally feel at peace.
"I was very pleased to make mortgage payments for a home that was going to be mine some day," said Mary Ann. "It was a comfortable feeling – one you cannot get from a rental agreement."
How Owning a Home Impacted Mary Ann's Life
"Anyone who is thinking about working with Habitat for Humanity will be very glad they did. The program is real. It is a chance to take control of your life and have a good life. It takes a lot of sweat equity hours, but the end result is so sweet. Thank you Habitat. You have helped make me a better person."
Mary Ann blossomed in her home. She felt secure knowing her rent would never go up and she wouldn't have to move. She relished the simple, everyday things. Her daughter had a yard to play in and a stable home to make memories that last a lifetime. Mary Ann was happy she could give her daughter a stress-free environment to enjoy her childhood years and focus on her education. She especially loved celebrating the holidays and birthdays. "I made several new friends on my street and there was always a reason to celebrate someone or something special."
The impact of achieving stability and peace of mind radiated out from Mary Ann in several other ways. Mary Ann's generous heart and desire to help others in need of shelter led her to invite her previous apartment friend and her child to move into her home. "They lived with me for a couple of years in my Habitat home until they eventually moved into a home of their own. I was a good influence. Here we are 20 years later owning our homes and continuing to share holidays and birthdays."
Mary Ann also continued to advocate for Habitat and offered her experience to assist with other homeowner candidates journeying through the program. "I was privileged to work with new families coming into the Habitat program. I liked to help the families feel comfortable, encourage them to ask questions and, in general, I advised them what to do and how to get what they need. It was my way of showing my appreciation to Habitat for helping me find my way."
These days, Mary Ann is retired and enjoys the freedom and extra money on hand from not having any more mortgage payments. Her daughter has grown into a beautiful young woman with a husband and two daughters of her own. Mary Ann strives to stay involved in the community. She loves having her grandbabies visit. She stays healthy by riding her bike and walking her dog.  Life is good.
Her course correction decades ago led her down the path to the life she had envisioned for herself. Taking Habitat up on the opportunity to purchase an affordable home made all the difference getting there.
https://www.habitathillsborough.org/wp-content/uploads/2018/09/Blog-page-Mortgage-story_Rodriguez-1.jpg
330
780
Habitat Hillsborough Editorial Team
https://www.habitathillsborough.org/wp-content/uploads/2016/03/Horizontal-logo-2color.jpg
Habitat Hillsborough Editorial Team
2018-09-24 18:25:49
2018-09-25 17:49:05
The triumph of making that last mortgage payment. (Yay!)