Operation Code Vet teams up with Habitat Hillsborough, Owens Corning and Westfall Roofing to help local veteran family.
Collaboration and partnership have always been the cornerstone of Habitat for Humanity's mission to provide safe, decent and affordable housing.  Habitat's work depends on community participation, whether it is the thousands of volunteers who help us build and rehab every year or our corporate friends and organizations that provide building materials and help fund our programs.
And sometimes Habitat teams up with other community agencies with similar missions and goals. Such is the case with Operation Code Vet, a non-profit program that is an offshoot of Hillsborough County Code Enforcement. Founded by Hillsborough County Code Officer Christine Zien, Operation Code Vet (OCV) has helped hundreds of low-income veteran homeowners with code violations obtain solutions through the assistance of partnering agencies like Hillsborough County Sheriffs Office, United Way, Bracken Engineering, Crossroads – and Habitat for Humanity of Hillsborough County's Home Preservation Program (HPP) managed by Jeremy Cooke.
"Jeremy and I have worked together for the last two years on hardship cases," said Christine. "I reach out to Habitat regularly to see if through their Home Preservation Program it is possible to assist with cases I have deemed hardship cases.  On many occasions OCV has supplied volunteers and tools while Habitat supplies materials and help for the project. We have also worked several cases together in which Operation Code Vet supplies volunteers and materials while Habitat finds the vendor. Habitat has been AMAZING and more than willing to partner with Operation Code Vet, Inc. For this I am forever grateful!"
Making a difference for a veteran family. It's a team thing.
Last fall, Christine Zien reached out to Habitat's HPP and Jeremy Cooke to request assistance to clean up massive amounts of overgrowth on the property of veterans Ed and Ruth Bryan. OCV provided the volunteers and Habitat provided the tools and the dumpster.  While Jeremy and the volunteers were clearing out the overgrowth, Jeremy and Christine noticed the Bryan family's roof needed to be replaced.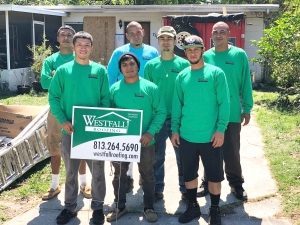 After applying for a grant on behalf of the Bryans via Habitat International's partnership with the Owens Corning's "Roof Deployment Project," Jeremy was thrilled to tell the family and OCV that Owens Corning had approved the grant to provide the resources for a new roof on the home.  Soon after, Owens Corning coordinated with one of their independent preferred Tampa Bay contractors, Westfall Roofing, to replace the roof, which was completed in late March.
"Westfall Roofing is a family-run business and we've always considered members of our local community like family as well," said Kirk Westfall, owner and operator of Westfall Roofing. "That's why we jumped at the opportunity to help the Bryans."
Since the inception of the Owens Corning National Roof Deployment Project in 2016, more than 100 military members have received new roofs.  Habitat Hillsborough is grateful to be able to help the Bryans thanks to the generous collaborative effort from Owens Corning and Westfall Roofing.
"We couldn't be happier to see the Bryans get the help they needed to replace their roof," said Jeremy Cooke. "This is a huge burden for this family and we couldn't do it without caring partners like Owens Corning and Westfall Roofing."
Additional Work to be Done
Now that the new roof has been installed, the next leg of the Bryan project features replacement of an old screened-in enclosure that was dismantled by Habitat volunteers so the roof replacement could move forward.
The Habitat Home Preservation program will be constructing a new smaller enclosure on the back of the house that will provide cover for the family's dryer and water heater with the help of Habitat volunteers Bob and Doris Meyer and others. Operation Code Vet will supply all of the materials and Habitat will provide the labor.
"I hope to bring this project all together down the road with new paint on the exterior," said Jeremy.  "And Arbor Bay Tree Service has also agreed to do some pro-bono work to help remove some of the overgrowth that has started to come back since last year."
Christine says OCV plans to continue to partner with Habitat Hillsborough.
"I must say there has not been any project with Habitat that was not organized and well done," said Christine. "With that being said, working with Habitat on this project has been such a positive experience for everyone. I just love Habitat for Humanity! Nothing but good! Now that Operation Code Vet has grown and continues to grow and gain more donations and partners, we will continue to embrace this partnership and there will be future projects for sure."
https://www.habitathillsborough.org/wp-content/uploads/2019/03/Blog-page-OwensCorning.jpg
330
780
Habitat Hillsborough Editorial Team
https://www.habitathillsborough.org/wp-content/uploads/2016/03/Horizontal-logo-2color.jpg
Habitat Hillsborough Editorial Team
2019-03-31 16:40:17
2019-03-31 23:17:58
Operation Code Vet teams up with Habitat Hillsborough, Owens Corning and Westfall Roofing to help local veteran family.