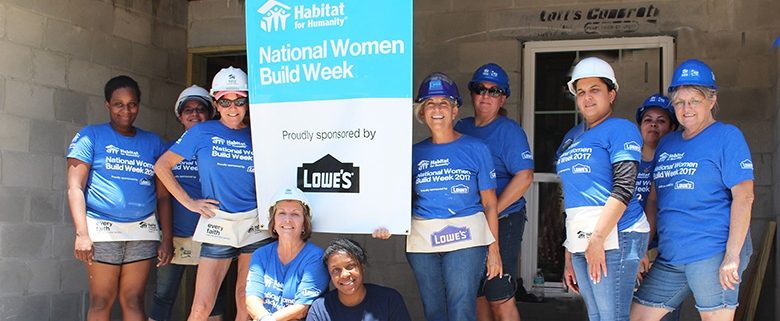 Habitat Hillsborough and Lowe's unite women volunteers to repair local woman's home during International Women's Day, March 8
TAMPA, FL — March 5, 2019 — In recognition of "International Women's Day" and as part of Habitat for Humanity's and Lowe's "National Women Build Week," 15 women volunteers from Lowe's home improvement stores in Tampa will be working with Habitat Hillsborough to repair, restore and rejuvenate the home of a disabled Temple Terrace woman on March 8th from 7:30 a.m. – 2:30 p.m.
The scope of work the ladies will undertake includes repair of a handicap access ramp, construction of a fence, painting and landscaping the home of Carmila Montalvo, who has been wheelchair-bound since 1997. The day of service is also a warm up to Habitat Hillsborough's annual Women Build, which begins April 6th to build a home in Temple Terrace for the Belgrave family.
"I really appreciate that Habitat and Lowe's is interested in supporting the community – particularly single mothers and women, such as me, who are disabled," said Carmila. "Especially involving all female volunteers. It is refreshing to see this!"
Lowe's has been a national partner of Habitat for Humanity's National Women Build Week for the past 12 years. National Women Build Week is a national initiative that brings women together to devote at least one day to raise awareness of the affordable housing needs facing women and children throughout our country and around the world. Locally, through a $25,000 grant, Lowe's is also the presenting sponsor for Habitat Hillsborough's Women Build 2019 home building event (April 6 – June 15), which will include more than 150 women volunteers.
About Lowe's in the Community
Lowe's, a FORTUNE® 50 home improvement company, has a 60-year legacy of supporting the communities it serves through programs that focus on K-12 public education and community improvement projects. In the past decade, Lowe's and the Lowe's Charitable and Educational Foundation together have contributed nearly $300 million to these efforts, and for more than two decades Lowe's Heroes volunteers have donated their time to make our communities better places to live. For the latest news, visit corporate.lowes.com/newsroom or follow @LowesMedia on Twitter.
.
https://www.habitathillsborough.org/wp-content/uploads/2019/03/Blog-page-Lowes-NWBW.jpg
330
780
Habitat Hillsborough Editorial Team
https://www.habitathillsborough.org/wp-content/uploads/2016/03/Horizontal-logo-2color.jpg
Habitat Hillsborough Editorial Team
2019-03-06 18:54:13
2021-01-25 15:27:35
Habitat Hillsborough and Lowe's unite women volunteers to repair local woman's home during International Women's Day, March 8