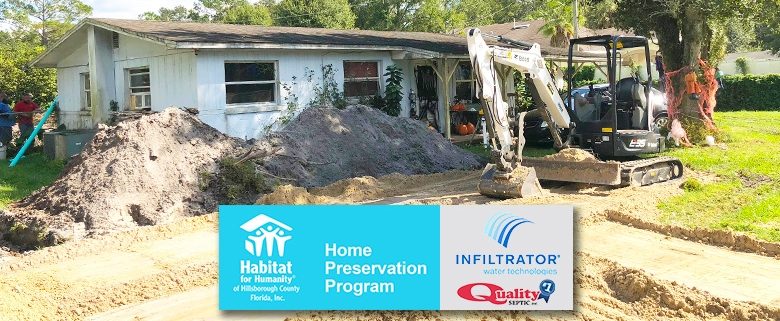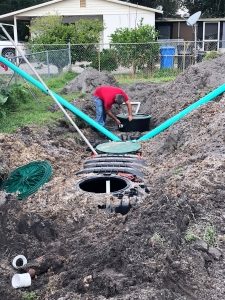 Last October and November, our Habitat Hillsborough Home Preservation Program (HPP) dug in to a very special project to help U.S. Army veteran Forrest Myers with replacing his septic system and exterior renovations to his Thonotosassa home.
The work was made possible through partnerships with Habitat International, Infiltrator Water Technologies, and Quality Septic. Infiltrator Water Technologies donated a residential septic tank and drain field. Kevin Johnson, owner of Quality Septic, was immediately on board when approached by our HPP Manager Jeremy Cooke about helping us with the installation, agreeing to do the entire project for free.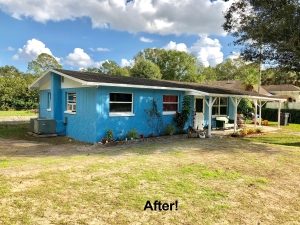 In addition to the in-kind donations of the septic system and installation services, the Myers family was a part of Habitat Hillsborough's 2018 Veterans Build week in November. As one of eight veterans served during the eight-day event, the Myers' home received minor exterior repairs, painting, and landscaping by a team of volunteers from Johnson & Johnson, one of our Veterans Build event sponsors.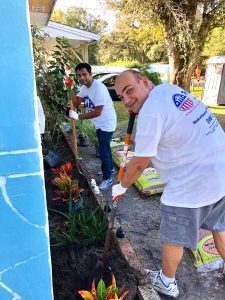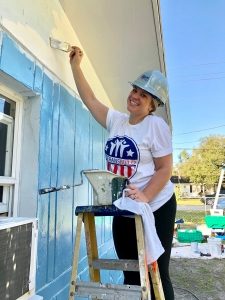 During his time served, Forrest became an expert marksman and hand grenade thrower. He was stationed at Fort Benning, Georgia and was deployed to Eaclangen, Germany where he guarded the Hoff Border during the Cold War with Russia in the early 1980s.
Forrest, who is battling health issues, is extremely grateful for Habitat's affordable repair services and the generosity of Infiltrator Water Technologies, and Quality Septic. He also was touched by the Veterans Build volunteers who gave their time and energy to help him resolve several maintenance issues on his modest home.
As we head into a brand new year, our Habitat staff is grateful for the partnership of our corporate friends who help us make a difference in the lives of families in our Hillsborough community. If you have a business or service and are interested in partnering with our Home Preservation Program, our Veterans Initiative or as a home build sponsor, please contact Richard Rogers at rrogers@habitathillsborough.org .
https://www.habitathillsborough.org/wp-content/uploads/2019/01/Blog-page-HPP-septic.jpg
330
780
Habitat Hillsborough Editorial Team
https://www.habitathillsborough.org/wp-content/uploads/2016/03/Horizontal-logo-2color.jpg
Habitat Hillsborough Editorial Team
2019-01-09 17:25:31
2019-01-09 17:25:31
The Big Dig – Home Preservation Program helps veteran replace septic system and more!