Habitat Hillsborough home sponsored by MetLife Foundation to be dedicated
MetLife Foundation provided $70,000 and local employees volunteered 1,200 hours for construction of the home.
TAMPA, FL, November 27, 2018 – Nearly ten weeks after the first MetLife Tampa volunteers arrived on the build site to begin construction on a Habitat for Humanity home, Teshia Lundy will receive the key to the completed house on Saturday, December 1, 2018. The home, which MetLife Foundation partnered with Habitat for Humanity of Hillsborough County to build, will be the first house in which Lundy has ever lived.
At the 11:00 a.m. dedication ceremony, MetLife representatives and many of its Tampa employees who volunteered to help build the home will see the culmination of their Habitat Hillsborough partnership when Tom Sarnese, vice president of Long-Term Care Claims and interim Tampa site leader for MetLife, presents the house key to Lundy and her daughter.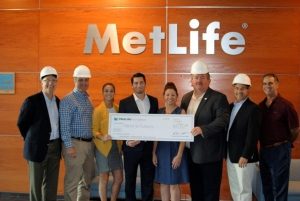 In August, MetLife Tampa executives presented a $70,000 MetLife Foundation check to Habitat Hillsborough CEO Tina Swain to underwrite construction costs related to the build. In addition to construction funding, MetLife Tampa also fielded approximately 150 volunteers who invested nearly 1,200 hours assisting with construction.
"Building this home is about putting people at the heart of our actions in everything we do inside and outside of MetLife," said Sarnese. "Our employees show great humanity and empathy in their daily work, and we are very proud of how they have brought that same energy to the Tampa community for this important service."
Lundy, employed as a file clerk and currently living in a small apartment in a high crime neighborhood, grew up in what she calls a "housing project" and later resided in a mobile home and small rental units.
"I always thought I might go my whole life and never be able to live in a house," said Lundy. "I'm so grateful to my home sponsor, MetLife Foundation, and all the MetLife volunteers who helped make my dream come true."
Lundy completed 300 sweat equity hours on the Habitat build sites in lieu of a down payment and attended 10 homeowner preparation classes as required by her agreement with Habitat Hillsborough. After the dedication ceremony, Lundy will sign her closing documents to purchase her affordable mortgage before moving into the home with her daughter.
The home was built on land in north Tampa donated to Habitat Hillsborough by Deborah and Clyde Reade.
###
About Habitat for Humanity of Hillsborough County
With a 4-star Charity Navigator rating, Habitat for Humanity of Hillsborough County builds and renovates homes in partnership with individuals and families in need of decent, affordable housing.  Habitat for Humanity of Hillsborough County is an affiliate of Habitat for Humanity International, a global housing ministry that seeks to put God's love into action, bringing people together to build homes, communities and hope. Since 1987, Habitat for Humanity of Hillsborough County has partnered with homeowners and the community to build or renovate more than 200 homes.  Families and individuals qualify for the Habitat for Humanity homeownership program based on need, willingness to partner in the program through sweat equity hours and completion of homeowner classes, and the ability to pay an affordable, zero-interest mortgage. For more details on Habitat for Humanity of Hillsborough County, visit HabitatHillsborough.org or call 813-239-2242.
About MetLife Foundation
MetLife Foundation was created in 1976 to continue MetLife's long tradition of corporate contributions and community involvement. Since its founding through the end of 2017, MetLife Foundation has provided more than $783 million in grants and $70 million in program-related investments to organizations addressing issues that have a positive impact in their communities. In 2013, the Foundation committed $200 million to financial inclusion, and our work to date has reached more than 6 million low-income individuals in 42 countries. To learn more about MetLife Foundation, visit www.metlife.org.
About MetLife
MetLife, Inc. (NYSE: MET), through its subsidiaries and affiliates ("MetLife"), is one of the world's leading financial services companies, providing insurance, annuities, employee benefits and asset management to help its individual and institutional customers navigate their changing world. Founded in 1868, MetLife has operations in more than 40 countries and holds leading market positions in the United States, Japan, Latin America, Asia, Europe and the Middle East. For more information, visit www.metlife.com.
Contact:
Robin Macar, HFHHC Communications Liaison
robinmacar@gmail.com
Daniel Mulcahey, Director, MetLife Global Communications
daniel.mulcahey@metlife.com
https://www.habitathillsborough.org/wp-content/uploads/2018/11/Blog-page-MetLife-Dedication.jpg
330
780
Habitat Hillsborough Editorial Team
https://www.habitathillsborough.org/wp-content/uploads/2016/03/Horizontal-logo-2color.jpg
Habitat Hillsborough Editorial Team
2018-11-27 15:21:02
2018-11-30 19:42:55
Habitat Hillsborough home sponsored by MetLife Foundation to be dedicated