On board for fourth year, volunteer is passionate about Habitat's Women Build
This year, Habitat Hillsborough is hosting its fourth annual Women Build. And dedicated Women Build volunteer Ali Hubbard has been on board for every one of them. While we have had to hit the pause button because of the pandemic, Ali reflects on her volunteer experiences during the 2017, 2018 and 2019 Women Builds as she awaits the time when our build site will again be open to volunteers.
There are hardly words to describe all the emotions I feel by being a part of Habitat for Humanity Women Build. Anyone who has heard me talk about what Habitat does and what they stand for, knows how passionate I am about it!!  When I first heard about the annual Women Build event they were starting four years ago, I just knew I had to be a part of it – not even really knowing what I was getting myself into!
At first, I thought it would be fun to get my hands dirty and build something. But then, I was fascinated to find out we were building a home for a very deserving single mom, who had put so much time and effort into earning this opportunity. And the statistics of how her children's educational trajectory would be positively affected was jaw dropping in the best way! I realized, this was way more than just a day of fun for me, this was a major shift for the life of a beautiful family!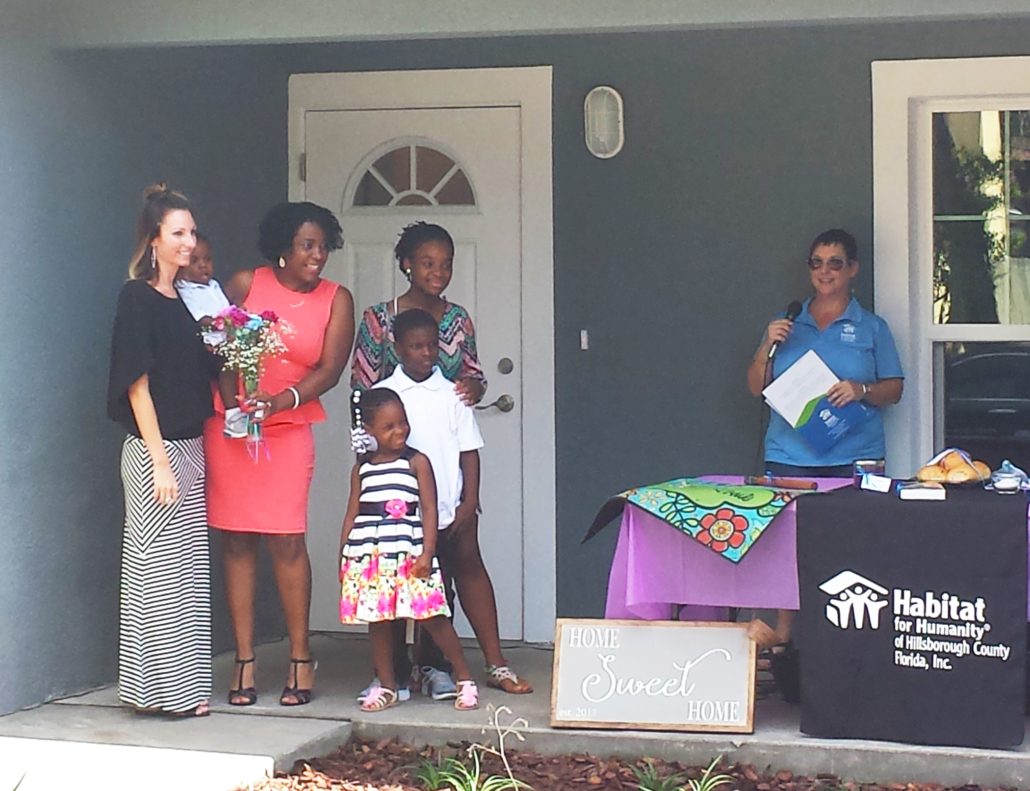 Being on the jobsite, working side by side with many other women builders, was also an experience I didn't expect. It was hard work, it was hot, and I felt like my body had been hit by a truck when I woke up the next day – but it was so worth it! It is truly empowering to show up to the jobsite in the morning, and then walk-away that afternoon literally seeing a house coming together!! Over the years I have painted walls, ceilings and a whole exterior. I have installed doors and windows. And have measured, cut, and installed base moldings.  And I have loved every minute of it! It was fun getting my hands dirty (and blistered), but it was also a moving experience seeing all these women come together, raise funds, and literally raise the roof for a fellow hard working, deserving mom!
The dedication ceremonies are the icing on the cake!  Seeing the home completed and the keys turned over to the family is beyond rewarding! And placing a final hand on the home to say a group blessing – it's a seriously powerful moment!!
Being involved in the Women Build event has become such an important part of my life, and I will forever be a volunteer for this annual event!!
Thank you to Melissa and the whole Habitat for Humanity Women Build Team for everything you do!!
– Ali Hubbard
Habitat Hillsborough Women Build volunteer
https://www.habitathillsborough.org/wp-content/uploads/2020/04/Blog-page-WB-Ali-Hubbard-2-scaled.jpg
1083
2560
Habitat Hillsborough Editorial Team
https://www.habitathillsborough.org/wp-content/uploads/2016/03/Horizontal-logo-2color.jpg
Habitat Hillsborough Editorial Team
2020-04-15 22:20:49
2020-04-15 22:21:55
On board for fourth year, volunteer is passionate about Habitat's Women Build